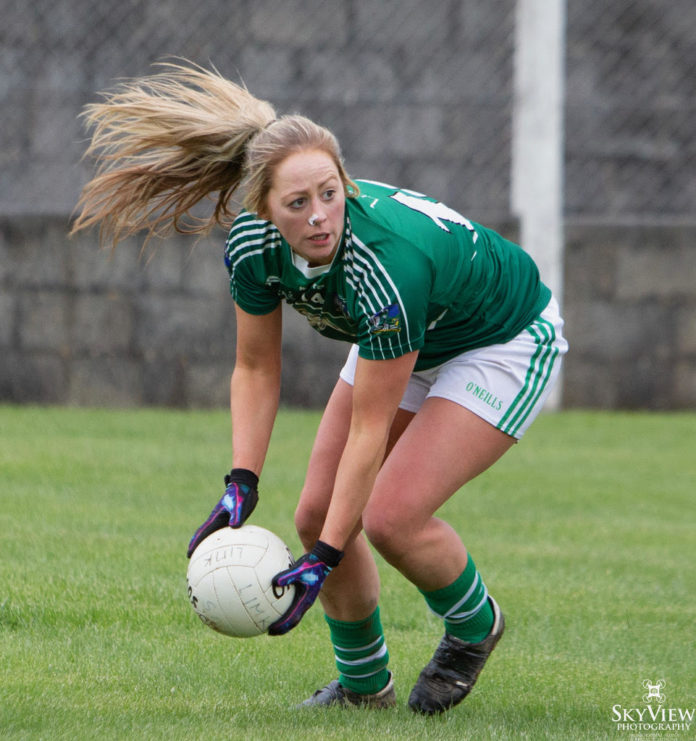 The Limerick ladies footballers succumbed to their first defeat of the League yesterday as they were beaten by a point, 4-4 to 2-9 by Carlow in Askeaton.
Limerick were without a number of players for the clash and will rue the concession of four goals.
Limerick opened the scoring within 90 seconds but would not add to their tally until injury time of the first half as they trailed 1-3 to 0-2 at the break.
Lauren Dwyer had her second goal of the game straight from the restart but Catriona Davis replied for Limerick dispatching a penalty to reduce the deficit to three once more.
Limerick had the next score to bring the sides to within a goal, but Dwyer would complete her hat trick on 39 minutes to leave the score at 3-3 to 1-3.
Limerick responded however and two frees from Catriona Davis reduced the gap. She was then sin binned but despite the numerical disadvantage, Limerick had another goal, this time courtesy of captain Cathy Mee from the penalty spot to leave the sides within one point.
Once again, Lauren Dwyer would extend the lead with her fourth goal of the game to push Carlow further ahead.
Limerick would have the final three scores of the game but couldn't find the equalizer as Carlow avenged their defeat to Limerick in the round robin phase of the All-Ireland last summer.
SCORERS: Limerick: Catriona Davis 1-5 (1-0p, 0-5f), Cathy Mee 1-0 (p), Mairead Kavanagh, Caroline Hickey, Katie Heelan and Kristy Carroll 0-1 each. Carlow: Laren Dwyer 4-1, Cliodhna Na She 0-3 (2f), Edel Hayden 0-1.
LIMERICK: Maire Lyons; Ciara Ryan, Sarah O'Sullivan, Kristine Reidy; Megan O'Shea, Olivia Giltenane, Cathy Mee; Loretta Hanley, Caroline Hickey; Cliona Na Cheallaigh, Mairead Kavanagh, Katie Heelan; Ava Hartigan, Catriona Davis, Andrew O'Sullivan. Subs: Kristy Carroll for Mairead Kavanagh (h-t), Eimear Kirby for Cliodhna Na Cheallaigh (45mins).
CARLOW: Niamh Hanley; Aoife Hayden, Anne Roche, Laura Corrigan; Maria Kinsella, Nuala Mohan, Ciara Mullins; Antoinette Dowling, Michelle Dermody; Niamh Forde, Edel Hayden, Allen Atkinson; Maria Hayden, Cliodhna Ni She, Lauren Dwyer. Subs: Rosin Byrne for Maria Hayden (28mins), Leah Mullins for Laura Corrigan (35mins), Laura Regan for Lauren Dwyer (59mins).
The post Limerick ladies footballers suffer first loss of the year against Carlow appeared first on Sporting Limerick.