WHEN you are witness to work by a regular winner of the Irish Book of the Year Award, there is the expectation of glory to blaze from the script. Multiply the laughs with ribaldry, with savagery and an endearing self-awareness ("the best international rugby player never to play for Ireland") on the part of Ross O'Carroll-Kelly at University Concert Hall into Saturday 16, www.uch.ie
'Postcards from the Ledge' is a robust mix of theatre and stand-up comedy, of cock talk, paternal bragging and ruefulness.
Paul Howard is author; Ross O'Carroll-Kelly (ROCK) is the miscreant; Rory Nolan is Ross and Jimmy Fay of Belfast's Lyric Theatre directs. It's a Landmark Production in association with MCD.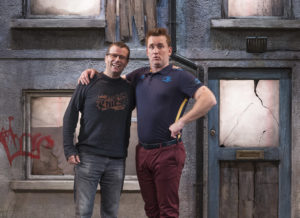 This is the collaborators' fourth theatre show together with FoxROCK at its centre. Except that Ross finds himself in a derelict corner of Sallynoggin, stranded, with the wheels robbed off his car. He is engaged in the sale of his childhood home as MD of Hook, Line and Sinker estate agents.
Ross is on for a turbulent morning of self-revelation, against the ugliest backdrop known to theatre and an even uglier story to tell.
Essentially, it is imperative that he avoid his only daughter Honor's wedding to a crumbly older man, Greg. Ross has already tried to kill him in a golf buggy escapade, such is his disgust.
Technically 'Postcards' is a work of art, with other characters dialling in on cue with heart attacks and recriminations, to announce the living and the dead and to cajole reconciliation.
The power of this show is all in the acting and the writing. Ross kicks a rugby ball-shaped hole through us, the fourth wall.
The stand-out blinding talent is Rory Nolan as mimic. His cruelty in emulating the balding, toothless, mature and determinedly matey Greg requires one almighty gift for acting.
Final score? ROCK's on fire.