BUOYED up after strong reviews in The Guardian Newspaper, Prime Cut tours from Belfast to Limerick's Belltable this Friday February 15, 8pm theatre.
In running order, the techno thump to 'East Belfast Boy' ("an urban ballet") stages for 50 minutes, followed by 'Every Day I Wake Up Hopeful' which contrasts in age and pace but not core issues.
Emma Jordan is artistic director of Prime Cut and she talked to Arts Page about what is going on with the twinning on-road of these one man shows. She places each in the context of  male crisis, of mental health and Northern Ireland's damning suicide patterns. The attrition rate is high. "I wanted to make some space to provoke discussion."
She directs 'East Belfast Boy', telling us that this is the third iteration of the show that played at Edinburgh Fringe Festival last year. It is now staging at several of the 32 counties and will go on to Dublin.
"'East Belfast Boy' was originally created by Partisan Productions through a collaborative process involving young men from the Beersbridge and Newtownards Roads in Belfast," programme notes inform us.
The Boy in question delivers his worth in performance poetry and dance, choreographed by the award winning Oona Doherty. "Ryan McParland is an incredibly talented actor, very physical in the role. He immerses himself in it and Ryan has a bright future ahead of him in the film world. He was in the Irish made film 'Killing Candice' which HBO is taking up to develop into a series."
On foot of what The Guardian writer observed in these stories' dynamics, I venture that passivity seemed to be a factor in Belfast Boy's circumstances and again, within the John Patrick Higgins' play.
"I don't think that passivity is the right word. East Belfast Boy is from a specific set of circumstances that can be prescriptive for living  – poor education, socially deprived areas leading to an entire deprived journey into life."
"I wanted to make some space to provoke discussion" – Emma Jordan
International tech DJ Phil Kieran – "quite brilliant" – worked in this theatrical piece to make the soundscape. "Techno music is East Belfast Boy's spiritual safe place."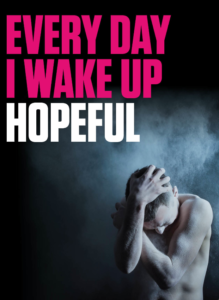 On to 'Every Day I Wake Up Hopeful'. Malachy is a middle aged man, played beautifully by Simon O'Gorman as something of a mess. Another solo work, we find Malachy dishevelled in his bedroom and sort of recounting how life has passed this relatively advantaged man by.Emma Jordan makes the point that he has lost his parents and there is no partner. No relationship has stayed the course.
"Tonight is the night. He has six bottles of wine, a bucket of chicken and . . . he wants to talk about it." Worse, there is a diagnosis of early stage cancer – about which he is very funny: "It is told with a very dry sense of humour."
And for all Malachy's depression and illness, it is his innate impulse towards hope that keeps welling up, bringing him back from edge.
This mid-life crisis is directed by Rhiann Jeffrey, counterpoint to East Belfast Boy's chaotic mindset.  'Every Day I Wake Up Hopeful' has to do with middle class culture but essentially, it's another man facing the abyss.
Emma Jordan has a deep concern with male culture in Ireland and gender roles and the many factors that contribute to poor mental health. These plays reflect "the two age groups that are hardest hit. More people have died in Northern Ireland by suicide since the Good Friday Agreement than died in The Troubles."
Fine performances and wit inform these theatrical gates to a stimulating night and mindset; booking on venue manager www.limetreetheatre.ie