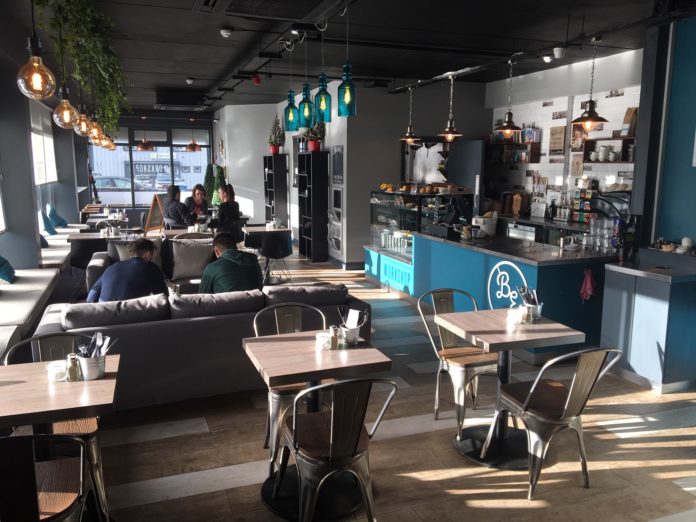 WHAT an unexpected find, the gorgeous food offer and charm at Workshop Coffee House and Café in the industrial heart of Eastway Business Park, Ballysimon. On a sunny corner yards from the NCT centre, Workshop presents breakfast, lunch and light bites served at your table – or sofa.
Virtually all food stuffs are made in house, from coleslaw to curries and quiche, the prawn pil pil, pastas and salads. Breads, desserts and pastries are a kitchen wonder.
Sign up for the weekly Limerick Post newsletter
There's a relaxed, Seattle-style vibe to this Monday to Friday coffee house: enormous windows, a finish of anthracite and teal and corrugated metal, lighting rigs of pendant lamps. A private party of 100 or so could while away a night here with bespoke menu, music and BYOB.  Parking? Plentiful and free.
Meet owner-manager Ellen Finucane. Having always wanted to run her own café, Ellen grew up in retail in the family business across the way, Finucane's Electrical Expert.
"I graduated as a Bachelor of Culinary Arts from Cork Institute of Technology and I've done overseas placement," Ellen tells Business Spotlight. "We make almost everything here, the pancakes, scones, our brown bread that we sell over the counter. Soup is always gluten and dairy free. Recipes for the house burger and Thai Red Curry are my mother's, Siobhan, and she is an excellent cook."
You can order in advance so that food is ready on arrival, a favourite with local crews.  What's on at 8am? From Eggs Benedict to Royale to Florentine to poached eggs with avocado, or the full Irish, a simple granola or croissants from the oven, the pick is yours. Lunch is as fresh, varied and generous.
The coffee house part? "Workshop Coffee House and Café is the first in Ireland to offer Fairtrade BE handcrafted coffee. It is delicious."
Outside catering and weekend in-house parties? "We have done several to great success, plus we deliver for large orders. Occasion cakes can be ordered through our pastry chef's company, Orla's Creations."
Be the new seeker at Workshop, Monday to Friday, 8am to 5pm; Instagram and tel. 061-294318.