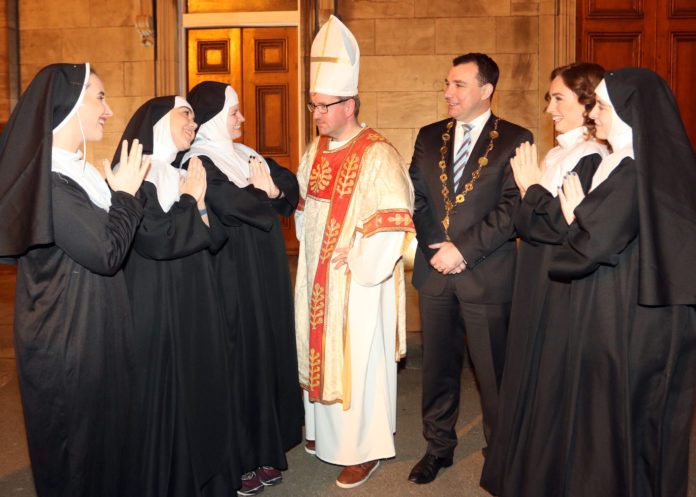 SET aside March 21 to 23 at University Concert Hall for Limerick Musical Society's 2019 show, 'Sister Act'.
For this production that is true to Broadway and not the screen version led by Whoopi Goldberg, the LMS host at Souths' Bar for the press launch, Suzanne Hickey told Limerick Post that a cast of close to 40 members will bring this comedy hit to life on the big stage.
Sign up for the weekly Limerick Post newsletter
"We are rehearsing five times a week and more on Sundays, for four to five hours each weekend. As a cast we are gelling very well, it's a very friendly set and Sister Act is a great show. Limerick Musical Society talent has brought together a terrific cast  – and it's good for the city and the talent we have here, with great leads."
The big parts are filled by relative newcomer Alison Kearney as Deloris, Jason Ronan/ Curtis – her mob love interest, Brian Henry/ Monsignor O'Hara, Barry Danagher/ Sweaty Eddie and Hilary Phayer is the authoritative Mother Superior.
In the chorus herself, society chairwoman Emma Moore makes the point that "Sister Act is a joyous show that uses music to bring different communities and lifestyles, together. It has a brilliant score including I Could Be That Guy, Fabulous Baby, Take Me to Heaven, Lady in the Long Black Dress, Raise Your Voice, Here Within These Walls, and Sister Act."
"The fantastic production team of director Des Henn, musical director Elaine Davern, choreographer Amanda Kearns, set construction Tom Lynch, lighting Joe Betts (Made for Stage) and costumes by production manager Jacinta Florish has worked tirelessly to create a unique staging of this iconic musical."
Book on www.uch.ie for Thursday March 21 into Saturday March 23, 8pm curtain and read Arts Page chatter on characterisation this Thursday Feb 28.