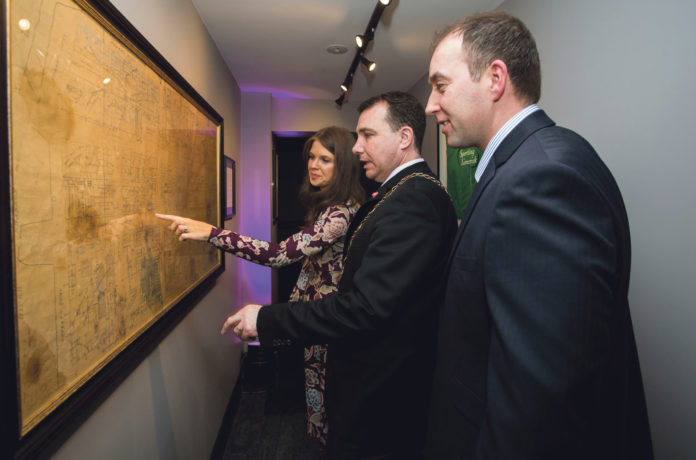 A UNIQUE segment of Limerick's commercial heritage got a new lease of life last week with the official opening of the Bedford Townhouse and CafeÌ? on Bedford Row by Mayor James Collins.
The new enterprise is located in Bedford House, which is also home to Limerick Travel. Both businesses are owned and operated by The Limerick Travel Group which has been synonymous with the Brazil family for almost 50 years.
The extensive renovation showcases some of the original features of the building which dates back to 1830 and its rich industrial heritage. Bedford House was once home to Peter Tait, founder of the Limerick Clothing Factory and former three-time Mayor of Limerick.
Indeed the city itself plays a starring role in The Bedford and the Brazils have ensured that every guest is made fully aware they are staying in a Limerick property. All 12 guest rooms are named after Limerick landmarks including the Treaty Room, the Hunt Room and the Tait Suite.
The history of Bedford Row has also been brought back to life through a Bedford Row Heritage Trail on display in the lower ground floor.
The first phase of the project, The Bedford CafeÌ? opened in July 2018 and this was followed by the stylish 12 bedrooms which were unveiled just before Christmas.
Continuing the family business tradition associated with Limerick Travel, Peter Brazil and his wife, Denise, have spared no effort to make The Bedford a reality. Their vision was to create a boutique Limerick Townhouse – one that offers guests a central location to stay and eat in the stylish surroundings of an historic Limerick property.
The Bedford also goes a step further to provide some surprising features including the Parlour Room hideaway lounge area, a gym and steam room, wellness breakfast in The Bedford CafeÌ? and a rooftop garden.
Describing The Bedford as "the type of property that is really needed in Limerick", Mayor James Collins acknowledged the success of Limerick Travel since its foundation in 1971.
"With this new chapter, the Brazil family are now encouraging people from around the world to stay in a very spectacular accommodation in the centre of Limerick."
Limerick Travel Group managing director Peter Brazil paid tribute to all involved in the development and made special reference to his parents, Tony and Sheila Brazil.
"Suffice to say that The Bedford would not have been possible without Limerick Travel and my parents. We are all so proud to be starting a new chapter in the Limerick Travel Group with the opening of The Bedford," he added.
Further information at www.thebedford.ie