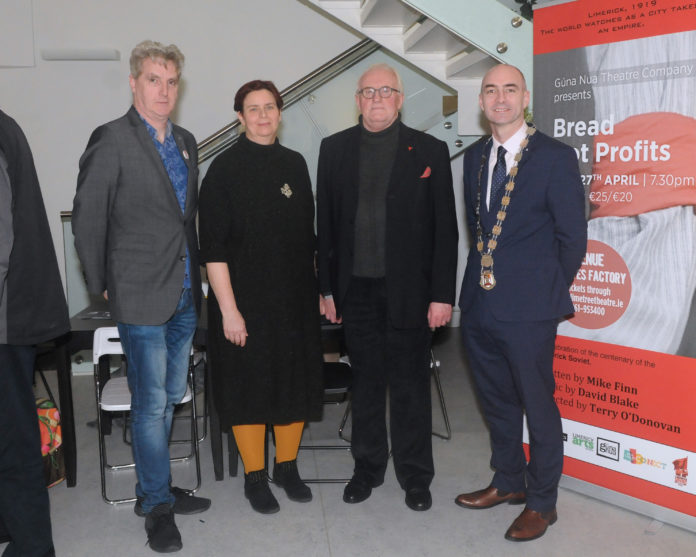 Guna Nua is delighted to announce details of its newest production, Bread Not Profits, to mark the 100-year anniversary of the Limerick Soviet.
Launched on Tuesday, March 5 by Historian Liam Cahill and Vice President Academic Affairs and Student Engagement of the University of Limerick, Professor Kerstin Mey, Bread Not Profits is an exciting new large scale, site-specific, theatre production which commemorates the 100 year anniversary of the Limerick Soviet.
The Soviet was a citywide workers strike in protest of British military occupation in the city in 1919.
Written by Limerick Playwright Mike Finn (PigTown, A Quite Moment) Directed by Terry O'Donovan of Dante or Die Theatre Company (I Do, User not Found) and with new music composed by David Blake (The Unlucky Cabin Boy, Brad Pitt Light Orchestra) the show will take place in the Cleeves factory site in Limerick City in a combination of immersive and promenade performance styles.
Continue reading below…
"It's really exciting to be doing this play in Cleeves because I think site-specific plays are always more interesting than going to see a play in a theatre, because it's an adventure for the audience," Mike told the Limerick Post.
"They're getting into a building that maybe they haven't been in before, and they're following the action to different parts of the building."
The Limerick playwright explains in the case of 'Bread not Profits' this is important to him as "Cleeves is the last remaining factory from 1919" and because of its prominent feature in the Limerick Soviet.
"The workers in Cleeves were actually the first to go on strike, they went on strike a day before the Soviet happened at all," he said.
The audience will be brought through this historically important site and into the world of Limerick in 1919 when the might of the British Empire was challenged by a 14,000 strong worker-led protest.
Viewers will see the Strike Committee, armed with just a printing press and the support of the workers of Limerick navigate an international media, frenzy, food shortages and eventually the issuing of their own tender, the Soviet Shilling.
The stunning cast includes both familiar Limerick faces and new and established nationally recognised performers.