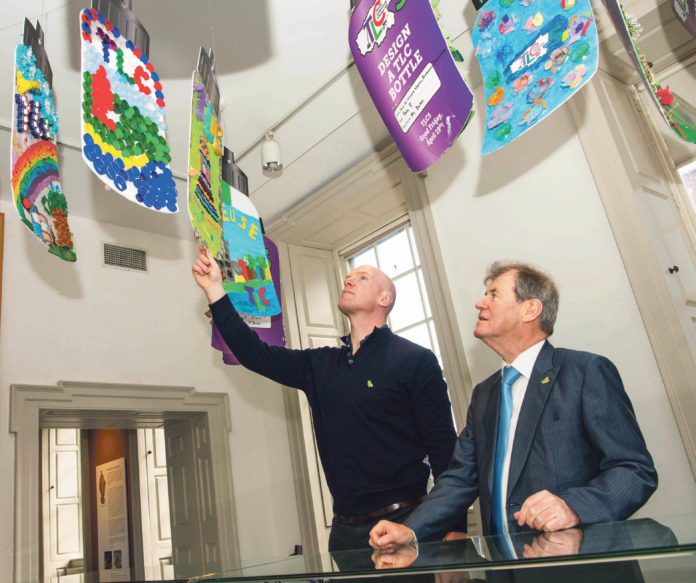 AS part of the build-up to this year's Team Limerick Clean-up (TLC) on Good Friday,  April 19, participants in the 'Design A TLC Bottle' competition had their work displayed at the Hunt Museum last Thursday.
Primary school classes throughout the city and county were invited to decorate a reusable water bottle prop with recyclable materials to show their pride and love for their home place. More than 50 primary schools participated in the competition and it is hoped that the exhibition will spark a conversation about the importance of recycling and caring for the environment among the younger generation.
Continue reading below…
Prizes included vouchers for school equipment and the winning designs will be printed on reusable bottles for every class member.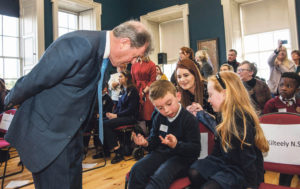 Team Limerick Clean-Up ambassador Paul O'Connell said; "There's been a fantastic response to the 'Design a TLC Bottle' competition and we thank every primary school that submitted an entry. It's great to all the entries hanging – the kids can be very proud of their work.
"It's another stepping stone along the road to this year's Team Limerick Clean-Up and I hope that as many people as possible sign up, particularly those who have never participated before".
The 2019 registration figures have passed the 13,000 mark and it is hoped that more people than ever before will participate this year. Organisers are urging people to register now and help make their community a tidier, more liveable place: www.teamlimerickcleanup.ie
Sponsored by the JP McManus Benevolent Fund, Team Limerick Clean-Up has seen over 360 tonnes of litter gathered from the streets by volunteers and event partner Mr Binman since inception in 2015 – equating to over 14,500 household wheelie bins.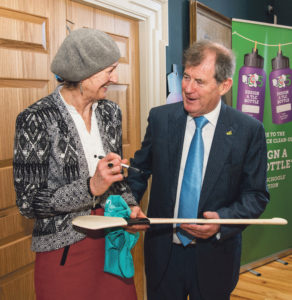 Volunteers come from every walk of life from schools, colleges and GAA clubs, to Munster Rugby, community and residential groups, businesses, charities and well-known faces locally.
The TLC initiative is supported by Limerick City and County Council and its official partners include Mr Binman, the Limerick Leader, Limerick Live 95FM and the Limerick Post.