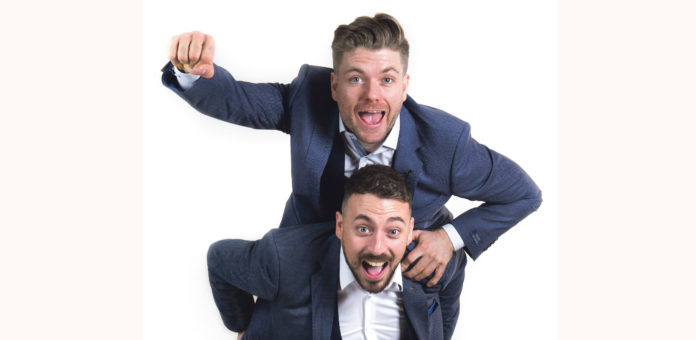 PODCAST and comedy heroes The 2 Johnnies have been on a roll with their chart topping podcast for over a year. The Cahir, County Tipperary duo Johnny B (O'Brien) and Johnny Smacks (McMahon) capture the uniquely funny side of all things Irish with sketches and comedy songs.
Limerick Post caught up with Johnny Smacks for a chat.
A new podcast is released every Monday featuring the two boys and regular bits like the bizarre Noel's News and Mr. Chairman who looks at the weeks previous business and fallout from the previous podcast.
The weekly 'Noel's News' is comic gold as Noel Furlong, created by Johnnie O'Brien gives his unique 'Irish take' on the world's headlines with his rambling stories, best described as Blindboy Boatclub on acid!
In last week's podcast and in the wake of The Oscars, the Two Johnnies presented their awards for the year. And in their own inimitable style they handed out awards to Derry Girls for Best TV Show, Last Chance U won the Best Hangover Binge. Funniest Bastard went to Kevin Hart, Person You Want To Avoid At A Party went to Tony McGregor, thanks to his "all the aces speech" Sporting Moment of the Year went to the Limerick Hurlers and Hardest Bastard Award was won by … The Nurses ("they went protesting in January" argued Johnnie B.
The 2 Johnnies started out on Snapchat and telling Instagram stories and made sketches for Facebook and YouTube and built an audience very quickly.
"We grew our audience there. We also wanted to do more in depth stuff. We wanted to have a longer conversation and prove that we could host a show and we could run a show, not just 20 seconds on Facebook but an hour of stuff."
The boys asked their social media fans if they would download a weekly podcast. They got a very positive response but still couldn't believe the reaction the new podcast received.
They started the podcast 55 weeks ago and it has gone top of the The Irish Podcast Charts since.
"We are talking about everyday stuff. We tell real stories. We are brutally honest, you know.
What we say is what we believe in."
"We are talking about real subjects that TV channels in Dublin don't discuss. People want to hear honesty. They don't want to hear "At the top of the hour" all the kind of stuff that is the regular, run of the mill stuff."
"Its a bit different. Its a bit abstract."
"When our first podcast went to Number 1, we couldn't believe it. You would be surprised who is listening to it, all walks of life, no matter where we go we meet somebody, who'd surprise us and say I listen to your podcast."
The 2 Johnnies make an authentic show and thousands are getting a great laugh out of it. And the lads have shown an ability to deal with more serious subjects and long form interviews with the Tipperary hurling legend John Lally.
Their YouTube channel has had over 8 million views. And the incredible stats just keep on coming! 170,000 followers on Facebook, 76,500 followers on Instagram, a further 30.7k on each of their personal Instagram pages, 80,000 followers on Snapchat and four Number One songs in the Irish iTunes charts.
In the summer the duo released 'The Silage Song' which clocked up over 20,000 in a few hours. To help get the track to Number 1 the Johnnies ran a draw to win a bale of hay or silage for every punter that bought the song on iTunes.
"It was a bit of craic. you wouldn't see Kodaline doing that. Ed Sheeran will be at it next." laughs
The draw was won in Wexford and The 2 Johnnies duly delivered the bale to winners.
"It was a good chance for fans to come and meet us. We went to Wexford to deliver the bale, two hours down.
"We had tea and sandwiches there with the whole parish. I don't know how they managed to round em all up but everybody was in that house."
The duo played warm up shows last year in Kilmallock and performed for Na Piarsaigh GAA Club.
Lessons learned on tour of small venues have shaped what is going to be their biggest gigs to date.
"The audience don't hold back. If it is not going well they won't be long telling you.
"A lot of our stuff is about life in rural Ireland. So it was great, you're talking to all the farmers coming in out off the tractor for a comedy show. For some of them it was their first ever comedy show."
"We learned our trade on that route and now we are looking forward to the big one in the South Court."
Now The 2 Johnnies are set for a nationwide tour of large theatres and venues. Expect to hear regular features like Noel's News and his insane stories.
"There is certain stories that you wouldn't share over the airwaves around the world, fresh material that we couldn't put out in the podcast, it's so crazy we had to hold it back for the live show
There might even be a raffle. The 2 Johnnies perform at South Court Hotel on Saturday March 16. Tickets from Ticketmaster.