CHARLOTTE Catholic High School, North Carolina, USA have been named as the overall winners of the 49th Limerick International Band Championship – Ireland's only marching band competition.
Thousands of spectators braved the rain and wind in Limerick City as they cheered and supported the 1,300 musicians from 20 bands who took part in this year's event.
Bands from the United States, Estonia, England, Northern Ireland, Limerick and across Ireland marched down O'Connell Street in Limerick as part of the Limerick St Patrick's Festival 2019.
Mayor of the City and County of Limerick, Cllr James Collins said, "There was high energy and high entertainment.  The people of Limerick came out to support it again despite the weather.  The rain didn't stop anybody having fun, it was fantastic."
"It is a great event for Limerick."
The band was presented with the Kenneally Jewellers Perpetual Trophy as overall winners of the championship.
The winners in the other categories were:
Best International Band – Slippery Rock University Marching Pride Band, Pennsylvania
Best Youth Band – Banna Chluain Meala, Clonmel
Best Local Band – Newcastle West Pipe Band
Best Musical Performance – The Friendly Sons of the Shillelagh, New Jersey
Best Uniform – Mullingar Town Band
Most Entertaining Performance – Clondalkin Youth Band
Special Judges' Award (Pipe Band) – Killorglin and District Pipe Band
Special Judges' Award – Friendship Band, Northern Ireland
Special Judges' Award – Glen Ridge High School, New Jersey
Bands performed at the reviewing stand for three minutes as part of the judging process with the winners announced at Arthur's Quay Park following the competition.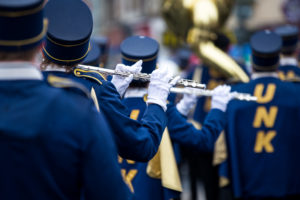 Performances at the 49th Limerick International Band Championship were judged by an international panel consisting of: Prof Stan Michalski, Cindy Scheid, Dr James Standland, Evelyn Grant and Niall Carroll.
The head judge, Prof Michalski said, "It was outstanding due to the weather to see all the musicians so enthused.  We were very much impressed.  It would have been especially difficult for those playing the woodwind instruments.  The musicians playing the brass instruments would get away with it.  We had snow last year, rain this year – next year it's going to be sunshine!"
"I want to congratulate all the bands for taking the opportunity to walk through the entire parade, because it was very difficult on the instrumentalists with the weather being so wet."