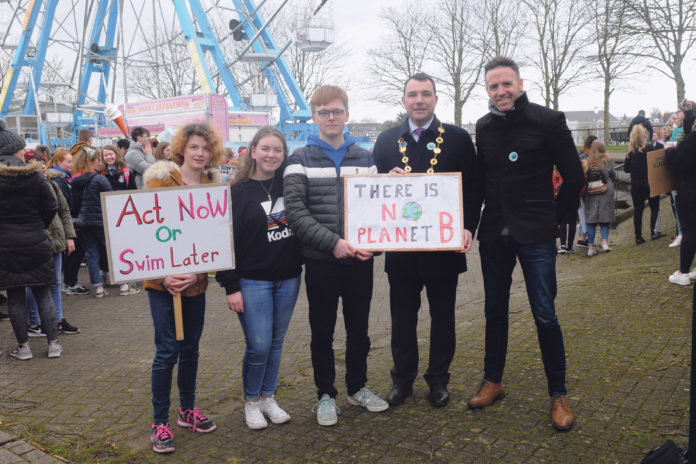 THE LIMERICK student who has taken up the Fridays For Future campaign, striking from school and protesting outside council offices, was joined by more than 400 other children and adults at the weekend protest rally in the city.
Saoirse Exton (13), a pupil at Gaelcholáiste Luimnigh, has been striking for three weeks and put out an appeal for others to join her on Friday last, a day for nationwide protest for action on climate change.
Sign up for the weekly Limerick Post newsletter
"Last Friday was incredible. There's no other word that can even come close to describing it. I was absolutely amazed. That very morning, when we started off and it was just my brother and me, I thought there would be at most 20 people.
"At 12:50, we set off towards Arthur's quay park. Our route was to go up towards Penney's to catch people's attention and then from there, head towards the middle of the park.
"When we reached Arthur's Quay park, more and more people started pouring in. There were people from Crescent Comp, Laurel Hill, UL, MIC, LIT, Gaelcholáiste Luimnigh, Castletroy, Pallaskenry, Ardscoil Rís and other secondary and primary schools too".
The protest moved on to city hall, where the Mayor came out to welome them.
Addressing the crowd, Saoirse said: "This is going to be written in the History books. We have to do this now because time is running out. I strike for Climate for those who can't. I strike for the Ugandans who weren't allowed to strike today by the Ugandan authorities. I strike for the Polar bears, who are going to die out in my life time and the rodent in Australia that has already gone extinct. I strike because corporate businesses need to be put in their place by our governments. And that's below the people".
Deputy Jan O'Sullivan (Lab) has been visiting Saoirse to offer support in her protests outside the council chambers in O'Connell Street over the last two weeks.
"These young people are really showing us the necessity for urgent action. It is their future which is at stake. We have to listen to them but we need to do more than listen – we need to act".
Green Party candidate for Limerick City North, Brian Leddin said, "I have the utmost admiration for these children. It appears that they appreciate more than most the scale of the catastrophe – economic, political, social and environmental – that is set to befall our country and our planet in the coming decades.
"These children deserve more than platitudes. For their sakes we must act very decisively and work together to mitigate climate change and reduce its worst impacts.
"In a Limerick and Mid West context, this means planning our city very differently. We must resist further urban sprawl and develop a city that is easy, safe and inexpensive for everybody to get around by low emissions modes, and we must invest heavily in our towns and villages and provide excellent low emissions transport links between them".