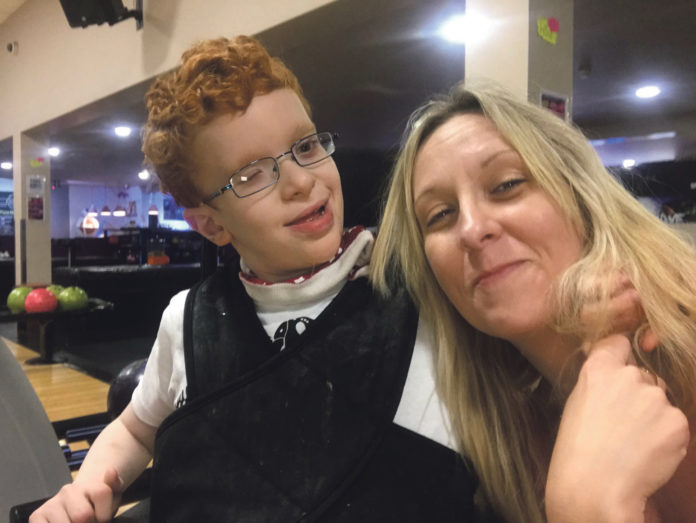 FULL-TIME carer Rebecca Conlon is undertaking four 10K runs in four months to raise money for equipment for her nine-year-old son Adam.
Adam has a rare condition called Mowat Wilson Syndrome and when he was born wasn't expected to survive more than two days.
As part of the condition, Adam gets many life-threatening seizures, which are increasing with age and mostly affect him at night.
Rebecca said after a seizure Adam frequently vomits which can be extremely dangerous as he can't turn over or sit up by himself.
"I need to raise about €1,000. The equipment is not covered by the HSE and I cannot afford it.
"It's a special camera system so I can clearly see Adam without having to be in his room, and also that the seizures can be recorded to help Adam's doctors understand them and change medications to help him.
"As I have recently lost four stone in weight, and worked hard on my fitness I am going to run four local 10km runs to raise money for him," said Rebecca.
Adam is severely disabled, wheelchair-bound, is completely immobile, needs twenty-four-hour care, only has partial vision and has bowel problems.
"He has had 23 surgeries so far, so he is a bit of a super hero. They don't know his prognosis because it's extremely rare, there are only 205 cases in the world, and he is one of the most severe cases," added Rebecca.
The mum of three boys Eamon (13) and Jake (5),  Rebecca gets very little sleep. She gave up her job to become a full-time carer to Adam as his condition worsened.
"In 2016 I was in intensive care with Adam. I said to him you get through this and I promise I'll get myself healthy again. I had been living on energy drinks, chocolate and sugar to get me through the nights. I was drinking about five red bulls a day. I'd say my heart was about ready to jump out of my chest.
"I was a size 20.  You can't eat properly when you are living in hospitals and on packet sandwiches. I tried loads of things and then a friend of mine was going to Unislim in Newcastle West so I went," said Rebecca.
Anne Hynes helped Rebecca develop an eating plan that fitted her unique schedule.
"I tried to go every week, sometimes I'd have to take my son with me.  Sometimes I'd be in class and I'd be bawling crying, or I'd have been in the hospital.
"Where we live in Rooska West in the mountains, there is a 9k loop which I do when my other half is there, or if I have a carer. I go to the gym when I can. I'm not a runner, I was never a runner in my life. I've always liked walking, so it's a challenge," added Rebecca.
Rebecca has completed her first run in Tralee and this will be followed by 10k's in Ballybunion, Limerick and Ballyheigue.
For gofundme details see https://www.gofundme.com/helping-me-day2day-specialist-equipmemt