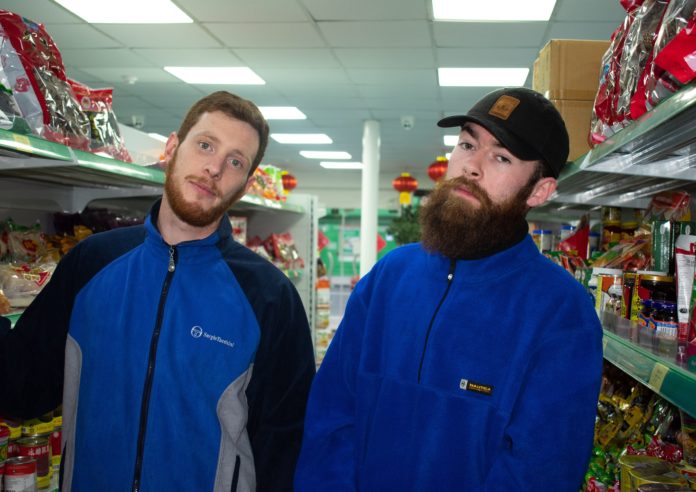 On the eve of the All-In Event this weekend highlighting new creative talent in the region, Limerick Post chatted with hip hop promoters Prescription and rapper Hazey Haze.
LIMERICK rapper Hazey Haze and promoters Prescription were crucial to the success of the recent Somewhere in Ireland conceptual video series that has over 30,000 views so far on YouTube.
Made by Brownsauce (aka Jack O'Flynn), Somewhere in Ireland is a co-operative effort by video makers, animators, recording engineers and rap artists, reflecting some of what makes this a golden age for hip hop in Ireland.
Hazey's track 'What's That' is first up in that series. The combination of great tracks, strong video production and animation earned this project critical acclaim from blogs and hip hop collectives. It clocked up thousands of views on YouTube and social media and led to a full house for the launch of the project at Pharmacia in early 2019.
Prescription is a Limerick based event promotions collective. Founder and DJ Sean Murray says that the video series caught the evolution of Irish hip hop in this vital time.
"The tracks bought Limerick hip hop and Dublin hip hop together in the one narrative video.

"Some of these tracks would have already been released on bandcamp and would have flown under the radar. But the Somewhere in Ireland series brought a visual aspect to the music that captured the imagination."
Sean studied Music Technology Production in LIT and this led to hosting a hip hop show on Wired FM where local rappers would call in to "spit some bars or whatever than they wanted to do."
The wealth of talent convinced Sean, Laolu 'Lay' Adeleye and Aaron Gallagher to form the collective to promote a scene where Hazey Haze was already becoming its leading light.
Hazey is one of rap trio SameD4ence which formed out of The Island Field in Limerick. With Sizzler and MCB, SameD recorded EPs since 2015 with Producer Deviant (Andy Connolly) overseeing the projects.
Hazey has developed his distinctive and original style on solo releases, from the brilliant and claustrophobic drama of 'Whats That' to the confessional breakup concept recording 'Empty Philosophies' EP 'Spillin Beans'. Hazey is a hip hop seanachí with a gift for storytelling, turning episodes of real life experiences into rhymes spat out in his own accent. It is progressive stuff – and he is only getting started.
Hazey credits Music Generation Limerick City and the work their mentors do with aspiring creatives in the city for the rise in profile of SameD4ence. Members of Ruangano Family and Andy Connolly provided the space and the positive attitude for these rappers to progress their craft.
"I can't give enough praise and thank yous to John Lillis and Andy Connolly (Music Generation)."
"I learned so much from them about how to be a good human, not even an artist. How they approach people. How to respect people.
"If you are from the Island, no-one likes you, no-one respects you.
"The way the lads looked at me saying 'you have it, you got something. You love what you do.'
"For lads to see that in you – and talk about you as they would their favourite artists.
"They're fair proud of you!
"I say they should be proud of me – I'm proud of them. That's the way we bounce off each other."
The young Hazey listened to Eminem, 50 Cent and DMX as a kid but it was when he heard an older friend in the neighbourhood spit a verse over a 2Pac's 'Do For Love' that he awoke to the possibilities of writing his own lines.
"I'll never forget it. Myself and B said we should try do something like this."
That trio would eventually become Same D4ence – Sizzler, Hazey Haze and MCB – but in the meantime they had to find their sound and their flow.
"I went down to get my uncle's bookie dockets. We were sitting at the table for hours upon hours writing. It went from us being in the kitchen – to being in the coal bunker – to us getting a light built into the coal bunker – to moving from the cold bunker because we were getting too hyper. It was too bouncy in there.
"Y'know, in the coal bunker, your clothes would be destroyed." laughs.
Out of the bunker and into a slightly bigger shed, the trio would record tracks on their phones and share them out.
"Then we started doing the gigs with Music Generation. Seeing posters with our names on it and shit – going from a small shed to being on stage. It was nice."
And the supporters from those early days still have those SameD4ence recordings on their phones – best not to delete them, then.
Prescription have now established the PX recording label which has rappers Hazey, Citrus, Gavin DaVinci, Strange Boy Nature combined with the beatmaking of Mankyy, Clerk 5 and Akia bringing an avalanche of creativity to Limerick.
"We don't have to plan anything . We are around each other so much that if something happens in the spur of the moment, we will literally catch it," adds Sean Murray
An official launch of the PX label is in the planning stages. New material from their extended roster will appear in the coming months as well as festival appearances such as Knockanstockan.
A new LP/mini-album called 'Is Mise' is in the works from Hazey Haze.
Prescription DJs and Hazey will be part of this weekend's All In Festival happening over two days at The Record Room, Catherine Street. It will feature electronica, songwriters, hip hop and drum'n'bass.
Rory Hall (aka Proper Micro NV) reports that the festival aims to "bring all genres of Limerick music together at once over two nights. It's such a vibrant scene. So the aim is to celebrate that."
The line up includes Proper Micro NV, Hazey Haze, Prescription DJ's, WaGwan, Gavin Da Vinci, King Pallas, Rokaia, Tamara Hall, Bill Karnation, 9th & 10th, William & The Sainsburys, Kubb_, Tunnel Vision, Anthony Byrne, Shafto and Ushmush.
Limerick City – All In happens this Friday March 29 and Saturday March 30.
Hear the full interview/podcast on www.limerickpost.ie