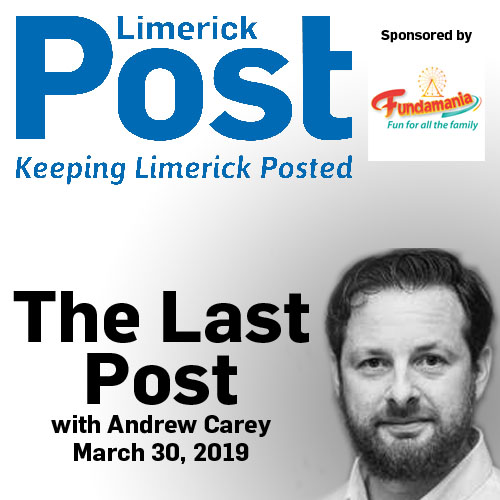 <iframe width="100%" height="166″ scrolling="no" frameborder="no" allow="autoplay" src="https://w.soundcloud.com/player/?url=https%3A//api.soundcloud.com/tracks/597210795&color=%23266aff&auto_play=false&hide_related=false&show_comments=true&show_user=true&show_reposts=false&show_teaser=true"></iframe>
The Last Post with Andrew Carey is brought to you by the Fundamania Sensory Saturday, Pa Healy Road, Grove Island, Limerick. Andrew Carey looks at the content in this week's Limerick Post newspaper, giving a run-down on this weeks Business, Health, Politics, Sports, Arts and Entertainment news.
This week's top stories:
The Opera Site sets the tone for the next phase of city regeneration
Limerick mother and baby die in Cork hospital tragedy
Becky 'The Man' Lynch wrestling with sporting history
Former mayor comes out of retirement for local election
All this and all your Sports, Entertainment and Arts news.