A LUMINOUS, upbeat figure on 'Dancing With the Stars' 2019 (DWTS) on RTE for 10 weeks, actress Clelia Murphy proved that she is some woman. Finally freed from the  frames and flicks so vital to compete, the 'Fair City' icon jumped to an ensemble piece, 'Light a Penny Candle', adapted from the Maeve Binchy novel and directed by Peter Sheridan.
'Light a Penny Candle' comes to Lime Tree Theatre for April 9 to 11, the first venue on a nationwide tour with the hardy Clelia headlining. The Gaiety is first to platform this crowdpleasing period piece that traces young lives on the cusp of adulthood.
Arts Page caught up with her finally. Committed to the dance show from November last year, the competitors got a few days for Christmas but thereafter until March 16, "I never had a day off." She loved all of it, the hard work ("I am not a natural dancer!"), the good natured teams, competing, the dresses – "the weight of the beaded ones, it's something like lifting up a toddler" –  and that 'Dancing with the Stars' is a show for all people.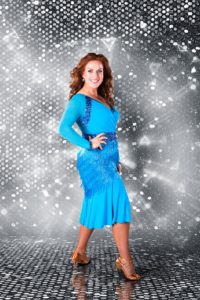 "By the time you saw us on screen we had been working since 8am that morning and then had a two hour live dance show. I love that it's a family show, homegrown. It's like 'Fair City' to the power of 10 in that everyone watches it, everyone is interested."
More than anything, the sense of fun lingers on.
Now for another life, on the road for theatre. "I want to tell great stories with great people," she says of this Shay Linehan adaptation and future prospects. There's a hint she might write herself, now that her 20-year commitment to the soap is over. Why not? "This is my only trip around the sun."
Of the Binchy work, the actress places "this notion of lighting a penny candle all the way through" in context of  the play beginning in World War II years in "Kilgarrett, a little town in County Galway. The whole idea is that it's in neutral Ireland and Hitler would not find it."
Her character is Mom to Aishling/ Kate Gilmore who is joined by Kate/ India Mullen from "bombed out London" for Kate's better good. Their trajectory is followed over a score of  years.
"It tackles the issues of growing up and to do with the Catholic Church of the time and blossoming sexuality. It is drama and it is Maeve Binchy's first book and is a fantastic read."
She heaps praise on the cast of five, with Steve Murray and Fionn Foley playing the girls' peers, all "led by Peter Sheridan who has such energy and physicality to his directing."
Closing off our few words, Clelia Murphy makes the point that "at the heart of this play is the fantastic friendships between women, and that was a modern concept at the time."
Booking on www.limetreetheatre.ie, April 9 to 11.