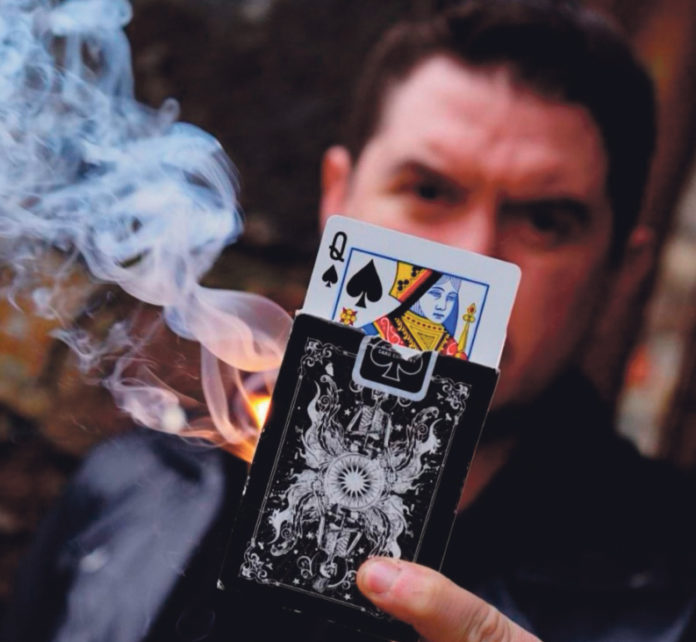 LEGENDARY escapologist Harry Houdini was quoted as saying, "Keep up your enthusiasm! There is nothing more contagious than exuberant enthusiasm."
To say Limerick magician, Spade, is enthusiastic about his craft would be an understatement.
As he prepares for the Limerick Post WeAreLimerick podcast, Steve Spade is introduced as a man whose stunts include him being burnt at the stake, escaping from a sealed box submerged in water, and, more recently, driving blindfolded around an obstacle course.
"That makes me sound crazy," he says with a laugh, "I'm always trying to push the envelope, as you said, I've done lots of different ones over the year. So I did an open challenge on Instagram, just seeing if people have crazy things for me to do."
Having been described as 'Ireland's Houdini' in the media some years ago, Spade has tried to live up to the moniker by accepting challenges from the public, as did Houdini himself
"Houdini used to take challenges all the time, and if you Google him now, you'll see old challenges that he would have taken from people that maybe made handcuffs at the time, or they might have made unbreakable steel.
"They had a product so good no-one could either get in or get out, and Houdini would accept the challenge," the Limerick magician said, adding, "So if you make chain, or big steel boxes, give me a call."
It could be said all children believe in magic, and Steve was no different, tormenting his parents from a young age by making things vanish on them, not always to their delight.
"My late dad was a mechanic, so he always had nuts and bolts around, and I'd be vanishing stuff, messing with screwdrivers, and all sorts of stuff. I was that kind of annoying child. It hasn't changed much to be honest.
"He and mam were very supportive of it, I suppose just being at home and allowed to take things apart, like 'do you like your new radio? Oh yeah, half of it's over there.'
"I was one of those kids that would take things apart, just be curious. Before I knew what magic was, that's the kind of child I was."
At the age of four or five, Spade was given a magician's set from his uncle, "and that was the start of it then, birthdays, Christmas; another magic set".
"My uncle Michael was an amateur magician at the time. He was training to be a doctor and he showed me a couple of tricks, so that was it then."
He remembers sitting with his brother watching David Copperfield on television, and asking his mother to go the shop to pick up some cardboard boxes so he could try to replicate the illusion at home.
"I tormented the life out of them to be honest. It was curiosity and it became a hobby that became a career."
So how do you go from taking radios apart and creating illusions from cardboard boxes, to escaping from a sealed box underwater?
Continue reading below…
That specific stunt came about as a charity fundraiser for the Irish Society for the Prevention of Cruelty to Children (ISPCC) after speaking with Jason Kenny and amputee Simon Baker who was walking from Dublin to Limerick to raise funds.
"The idea was that  I would be at the finish line doing some tricks. As it turns out, the finish line was at Matthew's Bridge, and before I knew it, I was being put in a box and thrown into the river as a finale. So it went like that," he told the Limerick Post.
He explains it was something he wanted to do, but it "was pushed forward because I got the opportunity to do it".
"If you over-think these things you won't do them," he explains, "I think you need to be at the right level of professional and a little bit crazy to do this."
Accepting these challenges has gotten him the aforementioned nickname, and it has also helped him come into the possession of a set of Houdini's handcuffs.
Having burnt himself at the stake like a modern-day Joan of Arc in King John's Castle, a Sky Travel programme, 'Baggage Battles', asked him to appraise a set of Harry Houdini's handcuffs which were bought at auction.
The Limerick man made his way to Dublin, bringing with him some chain and rope as was requested by the production, to have him escape as the credits roll.
When asked how quick he could escape, "52 seconds," he answered, and during recording they crew put it to him that if he was willing to escape on air in under 52 seconds, he could keep the Houdini handcuffs.
"I could have said anything, I could have said three minutes, but I didn't, I said 52 seconds," he says laughing.
"I accepted the challenge, because that's what I do. I rarely back down, actually I never back down," he said, after being tied up his time came to escape.
"48 seconds later I was out, and they had to hand me over the Houdini cuffs. Which I'm sure sickened them."