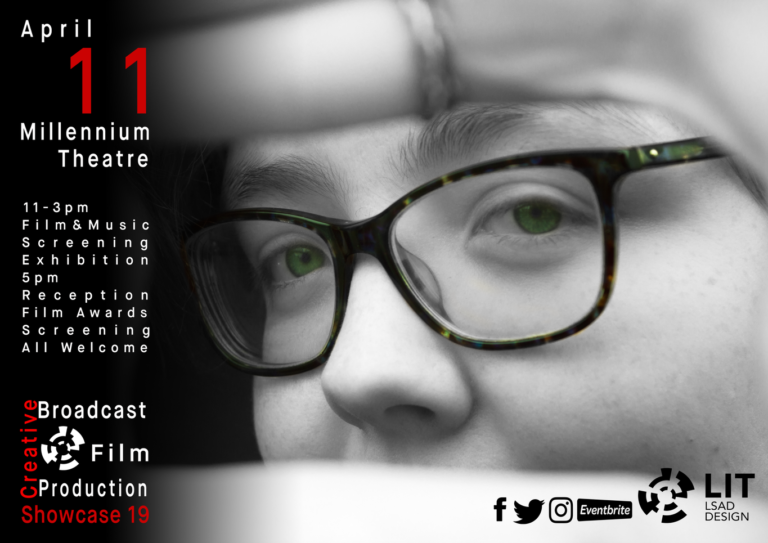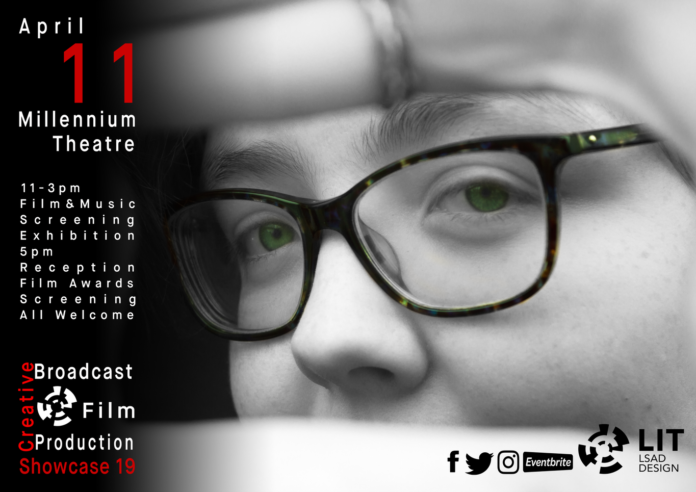 Creative Broadcast & Film Production students and staff at Limerick Institute of Technology (LIT) are pleased to announce details of the LIT Film & Media Showcase19 on Thursday, 11 April in the LIT Millennium Theatre.
The daylong showcase, which is a visual celebration of short film screenings as well as film & music exhibitions, will see student's present films ranging from fiction, documentary, and animation. This public showcase offers an exciting opportunity to view the latest work of emerging film makers working in Limerick today.
Showcase19 is generously supported by film & media production companies in Limerick who have come on board to celebrate the work of these talented filmmakers.
Below are the list of the awards and supporting Film & Media Production companies:
Art Direction – Selected & presented by Troy Studios
Cinematography – Selected & presented by Crude Media
Motion Graphics & VFX – Selected & presented by Piquant Media
Documentary – Selected & presented by The Limerick Post
Original Sound Mix – Selected & presented Spin SW
Original Script – Selected & presented by HearSay Festival (Heron Media)
Richard Harris Award in Film Excellence – Selected & presented by Richard Harris International Film Festival
A number of events will run alongside the showcase including a presentation by Nigel Mercier on how to become a Film & TV Extra. Nigel's company, "Set Extras" is the leading extras company in the West of Ireland.
Providing extras since 2016 for TV Commercials, Music Videos, and local International Films. An award winning actor, Nigel will offer an overview of the extras casting process, what casting directors are looking for, and how you can get involved.
For anyone interested in TV and Film production who would like to learn more about becoming an extra this is the event for you. SetExtras.ie have some of the most experienced casting directors working in Ireland today and a large database of people in the Limerick, Tipperary, Clare, and Kerry areas. To find out more, why not pop along.
Location: Millennium Theatre
Time: 1pm – 2pm
Book your place at https://www.eventbrite.ie/e/setextra-secrets-to-becoming-a-tvfilm-extra-with-nigel-mercier-tickets-56586496735