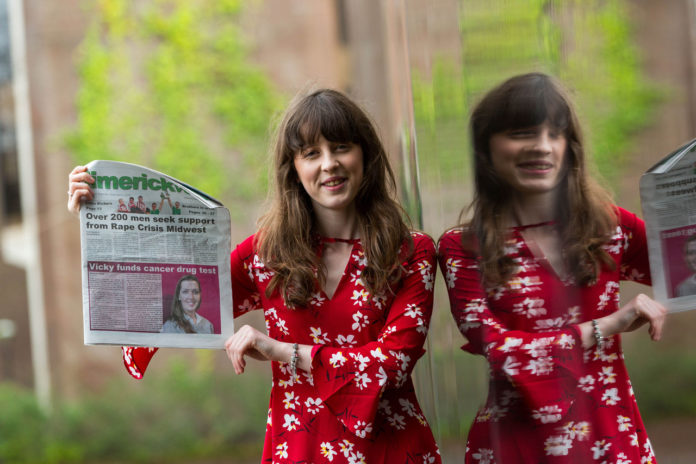 UL journalism students have secured a record number of nominations in the National Student Media Awards.
Limerick Voice, which was named newspaper of the year in 2018, has been nominated for the third year running in a number of different categories including: Newspaper of the Year; Layout and Design; and Website of the Year.  Frances Watkins, the 2018 editor of the 40-page local newspaper, produced by masters and fourth year Journalism and New Media students, has also been nominated for Editor of the Year.
UL's student newspaper An Focal overseen by second-year Journalism and New Media student Christine Costello has also been nominated in the Layout and Design and Website of the Year categories.
The National Student Media Awards or the Smedias, as they are known, is the largest competition of its kind in Ireland dedicated to recognising and celebrating the next generation of media talent. Open to students from every college across Ireland the awards are judged by key media industry leaders including Mark Hennessey, News Editor of The Irish Times, and Fionnan Sheahan, Editor of The Irish Independent.
Two UL journalism students have been nominated for Journalist of the Year including Muireann Duffy whose interview with cervical cancer campaigner Vicky Phelan, revealed how the brave mother of two has been using money raised for her own cancer treatment to help others gain to access to the wonder drug responsible for keeping her alive.
Journalism MA student Minyang Pang, a scholarship student from Beijing Sports University, has been nominated in the News and Sports Photographer of the Year categories.
Second-year journalism student Ronan Coughlan has also been nominated in two categories: Sports Writer of the Year and in the Radio Production category for the radio show Beyond the Game, which he co-presents with fellow second-year student Ivan Symth.
"It's great to see so many nominations for students across our journalism programme in UL. From second year right up to Masters level our students work is being recognised by national media industry figures, which is wonderful validation as they prepare to enter the world of work," said Kathryn Hayes, Course Director, BA Journalism and New Media UL.
UL head of journalism, Mary Dundon, said they faculty are proud to have a record number of Smedia nominations for the university's journalism students:
"UL has enjoyed a high degree of success at the Smedias in recent years which is due to the continued advancement of journalism in the university and to those who work tirelessly in the department. I hope all of the nominees will continue this successful streak next Thursday at the awards night."
UL journalism students are represented in 14 separate categories in the Smedias 2019 including:
Newspaper of the Year – Limerick Voice
Journalist of the Year – Muireann Duffy &  Evie Kearney
Website of the Year – Limerick Voice & An Focal
Editor of the Year – Frances Watkins
Layout and Design of the Year (newspaper)– Limerick Voice & An Focail
Sports Photographer of the Year – Minyang Pang
News photographer of the Year – Minyang Pang
Sports Writer of the Year– Ronan Coughlan
Features Writer of the Year – Federica Montella
Features, News and Current Affairs – Kathleen O Sullivan
Radio Production/News and Current Affairs– Emil Trahan
Radio Production/Arts and Features – Ivan Smyth and Ronan Coughlan 'Beyond the Game'
People's Choice – An Focal
Blog/Vlog of the Year – Aisling O'Connnor