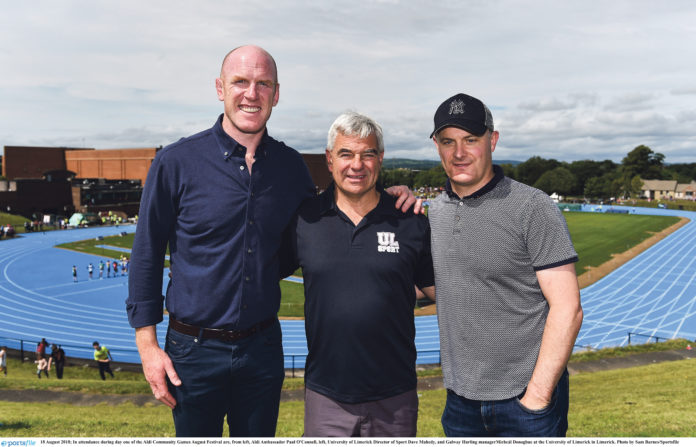 by Ronan Coughlan
YOU can always rely on a taxi driver for a good story.
I tell him that I'm about to interview the University of Limerick's Director of Sport.
"Who, Mahedy?" he replies.
"The very man", I tell him, to which he regales me a tale about Mahedy's coaching days with the Limerick Senior hurlers.
"It's 1996. Limerick have just lost the All Ireland to Wexford. In the aftermath, the County Board gave each member of the coaching ticket, including David Mahedy, a page full of questions asking why Limerick lost the All Ireland that year."
"Ask Mahedy if he still has those questions pinned up on his office wall," he challenged me.
I did wonder if this was true, and if this piece of paper remains pinned to his office wall some 23 years after its initial delivery.
David Mahedy has lived a life full of sport and has brought success to many clubs across multiple codes as a coach and advisor, spanning a timescale from the late 70's up until the noughties.
His office walls tell the tale of a life in sport well-travelled, a journey of hope and discovery.
The jerseys of Limerick GAA, Ballybrown, Limerick United, Shannon RFC, St Patricks Athletic, Old Crescent RFC, Republic of Ireland, UL Camogie, Patrickswell, Munster and Ireland cover the walls.
A cabinet full of more memorabilia provides a great talking point ahead of our interview. This is a collection reflective of Mahedy's stellar CV.
But I had to ask in the room full of gems, where was this famous questionnaire?
Halfway through the question, Mahedy points to the wall behind me:
"There it is there, you see that white page, it's called the 20 Questions"
"I keep that there to remind me that sometimes you might get a bit carried away with yourself doing this that and the other, but there is a reality that if you don't deliver, there is a lot of criticism and it keeps me grounded"
In 1974, the Dubliner made the trip down the country to study Physical Education. The only course of its kind at the time in Ireland was based in Limerick at the PESS building, formerly known as the National College of Physical Education (NCPE) and, latterly, Thomond College.
"So we arrived to do PE and then go back home and teach but I never made it back to Dublin and stayed ever since and rest is history nearly"
"Soccer was my main background. St Josephs Sallynoggin was my schoolboy team and I played Youths with St Patricks Athletic up until starting college"
"Just after qualifying in Physical Education, I got involved with Limerick United"
Eoin Hand took the reigns at Limerick United and they needed a coach. Mahedy got the nod and with that, his first major involvement in coaching.
In just three seasons they won the league, FAI Cup and almost beat Real Madrid in their own back yard.
"There wouldn't have been a lot of television or Premiership or anything like that and it was Sunday afternoon in the Markets Field and the place was jammed"
"The more you won, the more came and then you draw Real Madrid in the European Cup. Playing in the Bernebeau is something special"
With Mahedy's early success came new opportunities and new sports to branch out into. Ballybrown looked to obtain his services and it didn't matter that Mahedy had no experience in hurling, the same school of thought applied:
"My main area was team preparation, you prepare them physically but you also prepare them mentally and I was in the early days of that"
As time moved on, Mahedy coached the Limerick Senior Hurlers, bringing success in the form of two Munster Championships. But All -Ireland Final defeats in 1994 and 1996 saw him part ways and return to Rugby, where he helped Old Crescent gain promotion to Division 1A and complete a unique double where he trained the winners of rugby's All-Ireland League (Shannon) and soccer's National League (St Pats) in the 1997/1998 season.
"You know, looking back, you pinch yourself afterwards, I didn't even think about it at the time, it just went from session to session and you were in the thick of it and you enjoyed it, but if you thought about it, you probably wouldn't do it"
A strong friendship with Declan Kidney is evident in his office. A photo of the two embracing after Munster's 2008 Heineken Cup victory in Cardiff hangs on the wall.
They worked together at Munster from the late nineties at the turn of professionalism right through until the Heineken Cup glory days in 2006 and 2008.
"Working with Declan Kidney is a joy, you wouldn't meet a nicer fella. Over there on that wall is his grand slam medal that he gave to me. That's the type of guy he is"
The medal is framed with the message: "To Dave, Thank you, Dec"
"I remember him watching me take the warm-up and straight after that, he said to me "I like the way you operate" and from there we just went from strength to strength"
"He is a gentleman and again I've been very lucky with the coaches I've worked with. He would be a very special coach, a great man-manager and his forte is how he can manage players"
Mahedy has overseen hundreds of Sporting events and sportspeople in action around UL.
From Andy Lee to Special Olympics Ireland; Kennedy Cups to Swimming Galas, you'll find him at them all. He wants to make his mark by leaving a legacy for future generations:
"Our tagline is, from the basic beginner to the Olympic athlete, everyone can train here, at the same time in the same place"
"It all comes back to sport. You want to be number one, you want to be the best.
"We want to be the best, UL wants to be the best, not just the best in Ireland as we already are the best in Ireland but the best in Europe and then be the best in the World".