There is a very clear roadmap to improving the quality of life in Limerick City, according to Rian Mac Giobúin, founder of Eireannachtharlear.com
LIMERICK could have its future mapped out as an eco-friendly destination if it follows in the footsteps of a Spanish City called Pontevedra that was pedestrianised twenty years ago.
One of the consequences of the traffic ban in Pontevedra was the creation of the Metrominuto pedestrian map that was designed to look like a subway map linking the city's attractions through a series of different "pedestrian routes". It also shows average travel times and distances between stops. Given the proximity of Limerick's principal points of interest, the production of a similar guide could transform travel and accessibility as well as enhancing the overall quality of life in the Treaty City.
The Metrominuto encourages travel by foot rather than by car and reminds people that walking is an engaging and practical mode of transport.
With the issue of public transport dominating debate in Limerick over recent weeks, it should be emphasised that walking is the lowest carbon, least polluting, cheapest and most reliable form of transport available to us.
Walking provides social, economic, environmental, health and political benefits and it is becoming increasingly important that we design our cities in a way that promotes walking as one of the primary modes of transport.
Recent research by the Living Streets group shows that improving the walking environment can boost footfall and trading by up to 40 per cent. In New York, the Department of Transportation reported a 172 per cent increase in retail sales after street redesigns transformed an underused parking area in Brooklyn.
And research conducted by Transport for London found that pedestrians spend approximately 65 per cent more than drivers.
Safe walking routes with appropriate facilities such as benches, shelter, street lighting and drinking fountains, can encourage a wide range of activities and healthier lifestyles across all ages. Redesigning the urban environment to encourage walking can bring people back out onto the streets, helping to reduce crime.
A walkable environment also increases the potential for social interaction, which in turn can increase a sense of community. One Irish study found that residents living in walkable neighbourhoods exhibit at least 80 per cent greater levels of social capital than those living in car-dependent areas. They are more likely to know and trust their neighbours, feel more connected to the community and are more likely to be politically involved.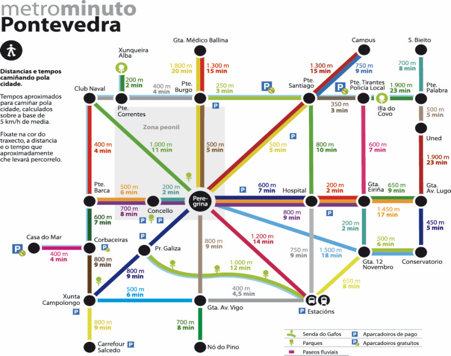 Walking can reduce the risk of heart disease, stroke and colon cancer and lower the level of cholesterol, blood pressure and body fat. It also increases muscle flexibility and joint movement and helps to strengthen bones, which in turn reduces the risk of injury from falls. Walking also improves our mood. It reduces the risk of stress, anxiety and depression, positively affecting people's mental health and happiness.
Walkability creates attractive public spaces and marking out small and well-planned distances between destinations enhances the pleasure of strolling through a city and enjoying local services, shops and landmarks, which can help boost tourism.
There are many ways that cities can promote walking, including car-free initiatives, health campaigns, economic incentives, pedestrianised streets, improved signage and covering urban spaces to mitigate against adverse weather.
Some of these initiatives take time and planning but others can be done almost immediately. The Metrominuto, for example, is something that could be introduced in a matter of weeks.
According to the Central Statistics Office's most recent National Travel Survey 74 per cent of all journeys in Ireland are still made by car. Of all car journeys made, 52 per cent were under two kilometres and 70.4 per cent were under four kilometres.
Maps like the Metrominuto or the Limerick map we have created for illustrative purposes show how close key locations within the city really are and encourage people to walk instead of drive.
By doing so, we can improve our environment, social cohesion, health, wealth and, most importantly, happiness.