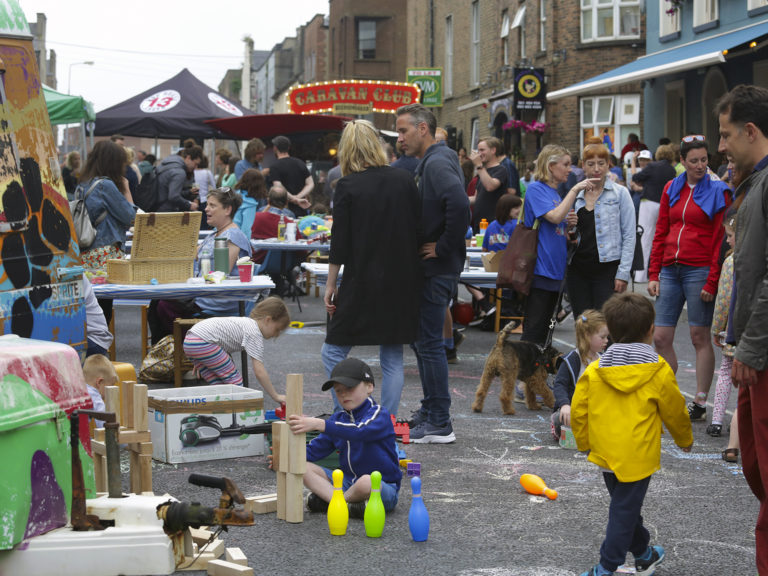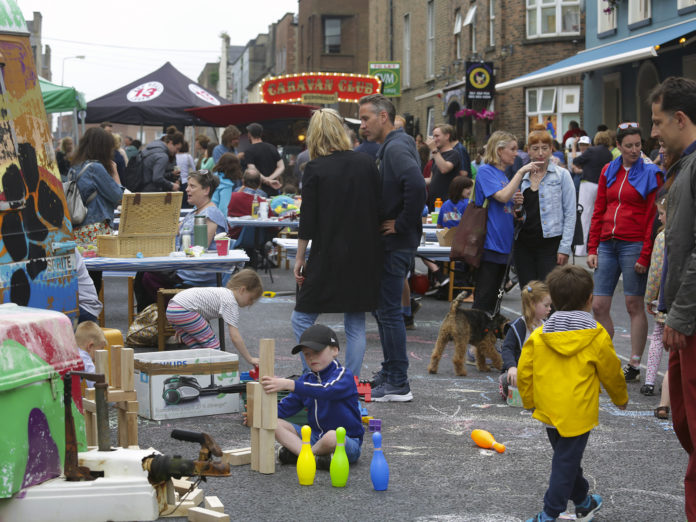 #LiveableLimerick have announced that, following on the success of last summer's Street Feast, once more in 2019, Catherine Street will be closed between 12 and 7pm for another family-friendly "Street Feast" on bank holiday Monday, May 6, 2019.
At its most simple, a street feast is simply having a picnic with your neighbours. Bring a stool, bring a rug, bring some food. It's a great excuse to come enjoy and share food, meet people who live near you and have a bit of craic. But it can be much more. It is an open invitation event also for out of towners who happen to be in the city centre that day. It is an opportunity to come along and partake in the fun atmosphere we can have on Limerick's public streets when we think of other ways to use them. It is an opportunity to reach out and invite along your neighbour whom you know lives nearby but alone or is new to the neighbourhood.
The idea is all about building communities. So people bring their own picnic and come and spend time with each other in a healthy and vibrant family friendly environment. Kids bring along their toys to share and they become the link to new friends. Anybody feeling a little lonely that day is encouraged to come along and meet new friends. You do not need to be invited. All are welcome.
A number of local businesses are enthusiastically supporting the event and will be helping to make it a lively and fun occasion for all who come along on the day.
Limerick City is an incredible diverse, inclusive and vibrant urban location and this is yet another opportunity to showcase and celebrate that.
Catherine Street has been selected as the venue to hold the Riverfest family-friendly community "street feast" building on their very successful event last year. The 2019 event, like 2018, is supported by Liveable Limerick and Limerick City and County Council.
Niki McMahon from Liveable Limerick said "Street Feast is a long-established national day of neighbourhood picnics, celebrated across the country and now in its tenth year. We are inviting people to bring a picnic, bring their children, meet friends and make new ones on bank holiday Monday May 6 #liveablelimerick are working together with local residents, businesses, local groups, new and existing communities to bring the Street Feast back this year to the heart of Limerick City."
Ailish Drake from Liveable Limerick said  "The idea was so successful last year as it is simple. People bring their own picnic and come and spend time with each other in a healthy and vibrant family-friendly environment. A number of local businesses as they are doing again this year enthusiastically supported the event. Events like these build a real sense a community and contribute to the wellbeing of residents and their friends."
Local resident and business person RockyO'Shea says "Last year, it was great to see so many people having fun on the street outside our new business. Catherine Street has had a new lease of life in the last few years and occasions like this reinforce that revival. "
Liveable Limerick is engaging to run another street feast and if it can come close to matching last year's success (although of course we hope it will exceed it), we plan to campaign for a summer long series of such initiatives to be brought to Limerick, with ever more streets closed to traffic on Sundays allowing those streets to transform into fun public space revealing the streets' potential for other uses, such as picnics, dance, games, cooking, eating, a place to meet and connect.
To get involved or for more information contact [email protected] or visit www.liveablelimerick.com