AT 75 YEARS of age,  Angela Collins O'Mahony, Ireland's first and only female steeplejack, thought she had hung up her climbing harness for good.
She was wrong.
When her three daughters decided to take on the challenge of abseiling down Croke Park, she got the climbing itch.
The founder of Ardnacrusha-based Collins Steeplejacks, Angela joined forces with her three daughters, Suan, Martina and Hilda to take on the challenge and raise money for children's rights charity Plan International.
"Hilda is a violinist living in Dublin and she wanted to abseil down Croke Park to raise funds for the charity which safeguards the  rights of children, particularly girls, who live in the poorest regions of the world.'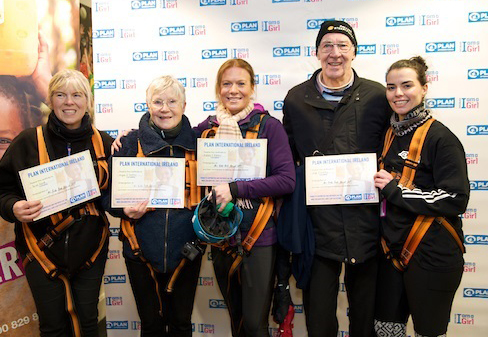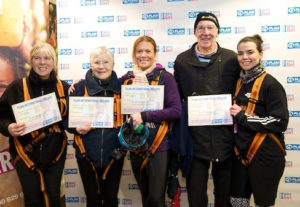 "She asked her sisters to donate €300 each or fundraise for the fee to abseil and it soon evolved into a full-scale family enterprise.
"Though I was a 75-year-old woman, I was treated like the other girls which was nice. It was almost thirty years since my last climb, when I climbed Bests on O'Connell Street for Spina Bifida."
"Though I was climbing regularly from age seventeen, it was still a great surprise to me that I was able to scale the heights at 75 as I have been taking things very easy."
But the Croke Park adventure is not Angela's last hurrah.
"I had a run of bad health, having four stents and had recovered from colon cancer some years back. I actually had thought that life was over and I was acting my age but after the climb I felt so invigorated, that I came to the realisation that I am only in the last third of my life.
"I should stop dwelling on age and be doing more volunteer work or do another adventure and realise that age should not dictate.
"We could have Plan International organise a similar Abseil in Ennis, and in Limerick as we have plenty of tall buildings in the Mid-West.  I have seen young people abseiling and they love it and probably do it all the time for hen and stag weekends.
"It is exciting and, at same time, helps raise much-needed funds for charity," said Angela.