Seizing horses has sparked suicides
YOUNG Limerick men who have their horses impounded have been driven to take their own lives or turn to crime.
That's according to a former ISPCA Inspector and firefighter who says that confiscating animals is not the answer.
Sign up for the weekly Limerick Post newsletter
"I knew four lads personally who turned to suicide after they lost their animals. I pulled two of them out of the river myself," William Morrisey told the Limerick Post.
The Crecora man spent thirty years both as a voluntary inspector and a firefighter and he believes that the only solution is to provide a training centre in the city for horse-mad youngsters.
"Most of them love their animals and would make fantastic horse owners, given the right training," he said.
"I knew a young lad who built a beautiful stable in the back yard for his horse and took fantastic care of it. The council told him there was no planning permission for the stable and it had to be torn down.
"A couple of months later, I met his mother on her way to visit him in Limerick prison.
"The only way I can get through to people who keep calling to get rid of the horses, is to say if you take a young lad's horse tomorrow he's going to be coming in your bathroom window next week".
He is angry at regulations which he says have "not been discussed or properly thought out," and at the "waste of money spent sending confiscated horses to Cork.
The council has spent around €1 million sending animals to Cork. Just imagine what good use that money could have been put to."
Mr Morrisey was speaking with the Limerick Post after he called RTE's Liveline to highlight the need for a training centre.
He said that a centre was promised at Delmage but nothing ever came of it.
"That's an ideal location but there's no will to do anything about it. If it was tackled 25 years ago, there would be a lot of lives saved."
"Yes there is cruelty but the vast majority of these kids want to do the right thing. All they need is education and a bit of support. If we give them that, we can pay more attention to those who are just bad and cruel," he said.
"Many of these families have had horses as part of their culture for generations. We need a training centre and we need to rethink the current regulations.
"We don't want wandering animals but there's plenty of grazing space around Limerick. Being involved with horses is keeping many youngsters away from drug gangs and prison".
Passion and love persuaded Anna to change horses
AS A one-time worker with Limerick Animal Welfare, Anna Gallagher was inclined towards the argument against allowing people to keep horses in an urban setting.
But her experience persuaded her to change horses.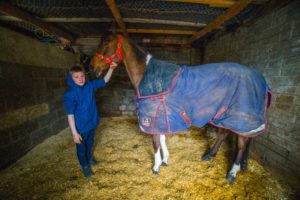 "But when I started going into the estates, I started to see the love and passion that many of the owners had for their horses," Anna told the Limerick Post.
"I saw kids getting up early in all weathers and bringing their animals water and food before they even had anything to eat themselves. They were spending all their pocket money on their animals, taking very good care with them".
But a cause of concern for owners who don't have stables is the fact that sometimes their horses are taken from where they are tethered during the night.
"Young lads high on drugs and drink think it's great sport to take these animals and jockey them up and down the roads until they are ruined. The kids who own them find them completely knackered after all the love and care they lavished on them. And all because they have no place to stable them safely".
Anna is one of the founder members of an organisation called HELPS, which set out to try and secure a site where urban horse owners could stable their horses and learn best practice in looking after them.
But, despite funding being available from the Department, all the promises and enthusiasm she has heard from members of the local authority have been false dawns.
Currently, she travels around the city estates, worming horses and advising young owners on their care.
"What we had in mind was a facility where everyone is welcome. A place where people can learn to groom and look after their horses, a track and a facility like a public park with benches where people could sit and watch the horses.
"It would be a fantastic facility for the city and it would help people of different ages and backgrounds come together.
"What's really sad is that there is government money for these kind of initiatives. The horse projects already up and running in Dublin and other areas have proved that once you give a young lad an interest and a hobby they are far less likely to get involved in bad behaviour.
"But we can't seem to get the council to get fully behind this although a lot of the members say they would support such a scheme".
She agrees that there is some cruelty.
"But if we can get the kids who want to learn it will be a lot easier to focus in on those who are mistreating the animals and root them out".
She believes that part of the problem is that youngsters are given the message early on that horses are disposable.
"You can buy a horse from a dealer for a tenner and they are offered as prizes in raffles.
"We have to teach the young owners how to get the best out of their horses. They are entitled to a place to learn that and to have their hobby, just like the hurlers and the footballers."
Time to end sulky racing on public roads
MARION Fitzgibbon, the founder and director of Limerick Animal Welfare, is all in favour of responsible animal ownership.
But in almost 40 years of working with abandoned and badly treated animals, she feels that urban horse owners generally leave a lot to be desired.
She is particularly angry at those who race their animals and sulkies on the public roads.
"I've seen horses being cruelly beaten and driven into the ground in these races.
"Twice I tried to intervene with the individuals involved and got beaten up myself for my trouble," she told the Limerick Post.
Marion is not saying that no-one should be allowed keep horses in the city but she is against the practice of racing them on the roads and leaving them to fend for themselves without proper food or shelter.
She has seen what can happen when owners neglect and mistreat hoses or run them on public roads, where accidents regularly happen.
And callous owners make sure there is nothing to associate them with the injured or sick animals once they abandon them.
"We had to put a horse down last week, it's leg was so badly smashed. Before that, we found a horse dead in a field but we can never trace the owners because they're not microchipped," Marion told the Limerick Post.
"It's EU law that horses should be microchipped and owners can be fined if they are not."
But in the six years since the legislation was enacted, Marion says, "we have never picked up a horse that was microchipped".
"Without legislation being enforced, all the hard work done by a lot of people is wasted. I've seen owners beating baby horses into the ground. They put no value on animals and there's little or nothing that can be done.
"If the animals were microchipped we could take action against the people who are mistreating them but there no enforcement without that."