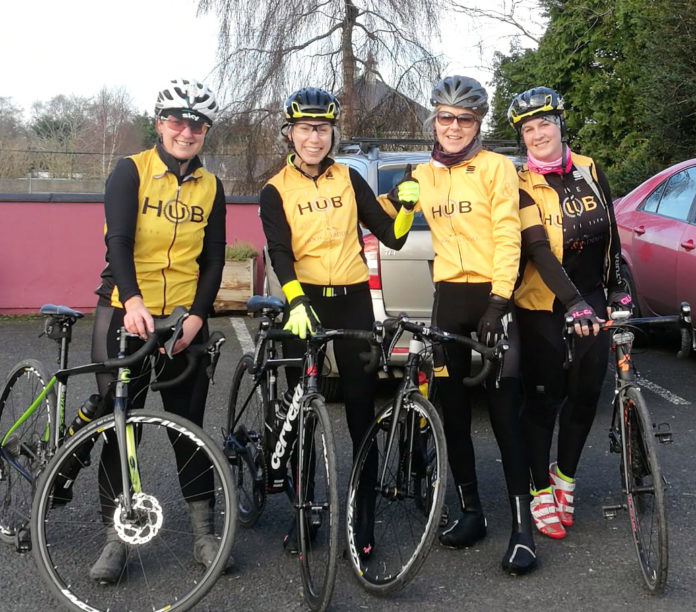 FOUR plucky Limerick ladies are planning to take on the challenge of climbing Mount Everest for a mental health charity – without leaving the MId West.
The four members of The Hub cycling club will tackle Woodcock Hill in Cratloe 36 times until they have cycled the equivalent of an Everest ascent, 29,000 feet.
The fundraiser has been named the Everesting Challenge and the team is raising money for Jigsaw, a youth mental health service in Limerick.
Team member Sile Hayes comments "As a primary school teacher, youth mental health is very important to me. Young people and teenagers, in particular, are under a lot of pressure today with school, exams, pressure from peer groups and social media. Encouraging children to become physically literate, follow their interest in sport and make it a lifestyle choice will go a long way in supporting a child's physical and mental well-being."
Sharon Kennedy, who runs her own business when she's not flying up hills on her bike, said that as a mother of three boys, she also knows how important youth mental health is.
"I want to make an impact, a difference, not only to raise much-needed funds but more importantly to keep Ireland talking and focusing on mental health and banishing the taboo that still exists," she explained.
Meave O' Shaughnessy, who was an avid runner until an accident curtailed her running career, is now a committed cyclist.
"To have this opportunity to simulate a climb to Everest in aid of such a brilliant cause is a dream that may come true."
Jackie Scahill, originally from Galway but now a long time resident of the Treaty City is another woman who loves a challenge. When her career brought her to Limerick she dusted off the bike and joined the Hub Cycling Club.
"The support, encouragement and sheer fun that I had on the weekend spins with the Hub changed my life," she said.
To keep up with the team's training schedule, search for Team Hub Everesting on facebook. The team fundraising page is open and donations can be made at: www.idonate.ie/teamhub