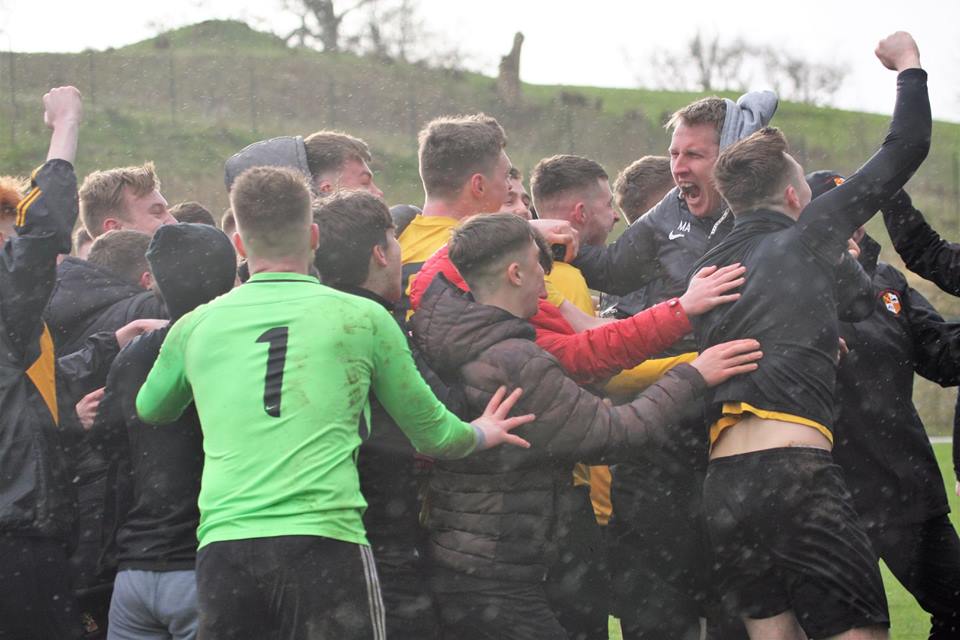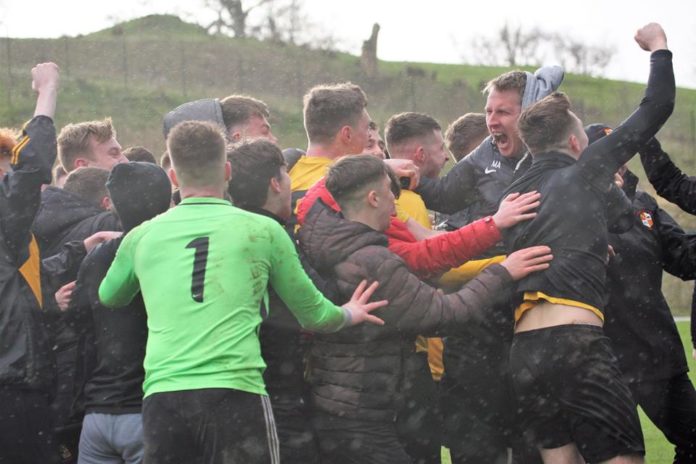 Aisling Annacotty Football Club have informed the Football Association of Ireland of their dismay at the scheduling of their FAI Junior Cup semi-final this weekend.
Fellow Limerick club Regional United have lodged a final appeal to the Court of Arbitration for Sport against their dismissal from the competition for fielding an ineligible player. The result of the hearing will not be made available to the clubs concerned until Thursday evening, just a couple of days before Annacotty are due to take on either club.
If Regional win the appeal, they will face Annacotty at Jackman Park on Saturday. However, if the decision is upheld, Aisling will have to face Sheriff in Dublin on Sunday afternoon.
Aisling Annacotty players and backroom staff celebrate their win over Westport
The game is the biggest in Aisling Annacotty's history and not only are the club unaware of who they will be playing, but they don't know the venue or the day that the fixture will be played on which is a crazy situation.
Aisling manager Mike Aherne has penned an open letter to Dennis Cruise, the Secretary of the FAI Junior Council, to make the club's disappointment known.
The letter written by the club can be viewed below:
Dennis
I am truly dismayed to have to write to you in relation to the proposed FAI Junior cup fixtures schedule for the coming week
As per your e-mail on Thursday 18/04/2019 at 16:19 you sent a proposal for the semi final to be played either this Saturday in Limerick or this Sunday in Dublin
Now put yourself in my shoes for a moment
I am the manager of Aisling Annacotty, I have 20 odd players asking me who we are playing, where we are playing, when we are playing and how they can sort tickets, travel, work etc not just for themselves but for their families also.  I
cannot provide an accurate answer only to say its Saturday or Sunday which sounds unbelievably comical considering this is the biggest amateur competition in Europe
We train tonight (Tuesday 23rd April), do I train to play Sheriff YC or Regional United, it's a dilemma because they are completely different opposition wise and if I choose the wrong opposition and plan, then I am answerable
to a club and to a squad of players who by the way are trying to enjoy a FIRST EVER appearance in the blue riband of Irish junior football
I am urging you, and the association to reconsider the scheduling of this week's semi final until the arbitration process is completed in a respectful manner.  Neither Regional United nor Sheriff YC deserve this treatment either
It is completely degrading that the Association continues to say the rush is on because of " the Aviva being booked for May 11th). While it is everyone's desire to play at the National stadium I would much rather an opportunity
to win the competition because of it's prestigious nature rather than simply say "we got to the Aviva"
My players, management team and club are dismayed that we are now expected to react to an arbitration outcome on Thursday within minutes and arrange players, work, college, travel, accommodation, food, supporters, tickets, flags and whatever
else has to be arranged to ensure some sort of organisation ahead of the biggest game of the season
I have copied local media and sponsors to highlight my concerns as this to me is a completely unacceptable situation that has been forced on my football club as a reward for doing so well.
Yours in sport
Mike Aherne
Aisling Annacotty A Team Manager
The post Aisling Annacotty inform FAI of 'dismay' at crazy fixture dilemma appeared first on Sporting Limerick.