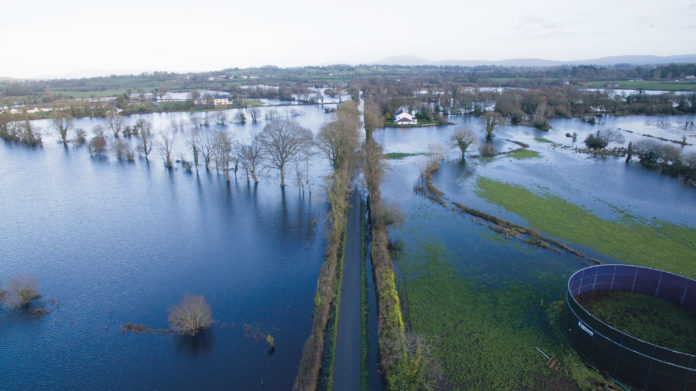 THE cost overrun at the National Children's Hospital in Dublin has resulted in a €3 million cutback on flood prevention work which may spell bad news for people who have been flooded out of their homes several times over the past decade.
Local Fianna Fáil TD Willie O'Dea was informed of the need to make the savings when he put a Dáil question to Public Expenditure Minister Paschal Donohue at the request of his party colleague Councillor Cathal Crowe.
The Minister's reply stated that "Arising from the Government decision of Tuesday, February 12 in relation to capital reallocations related to the cost overrun on the National Children's Hospital, the Office of Public Works is reviewing the most appropriate means of achieving the required capital savings of €3 million in the flood risk management area".
Responding to Minister Donohue's statement, Cllr Crowe said that he is "concerned that there is no definitive time-frame within which essential flood-defence works will be undertaken in the Springfield area of Clonlara.
"Minister Kevin Boxer Moran recently put on his wellies and walked the banks of the Shannon River with Springfield residents. He has a good grasp of the problem they face and has shown interest from the get-go in finding a solution to it.
"It is very worrying that the Springfield works are being scrutinised by Minister Moran's colleague Minister Donohue, who aims to achieve an overall saving of €3 million in capital expenditure on flood defence measures.
"The residents of Springfield had high hopes that works to protect their homes would commence this summer but now it's looking very unlikely that anything will happen within this calendar year."
Last November, the planned works at Springfield were put on hold by Clare County Council following receipt of submissions by the National Parks and Wildlife Service and an environmentalist.
"At a time when ground conditions and water levels are optimum for constructing flood defences the Clonlara residents find themselves, victims of both environmental misadventure and financial mismanagement on behalf of the government," Cllr Crowe said.
Despite the €3 million cutback, it has been confirmed that a flood prevention scheme for King's Island in Limerick city is one of the prioritised schemes that will go ahead.