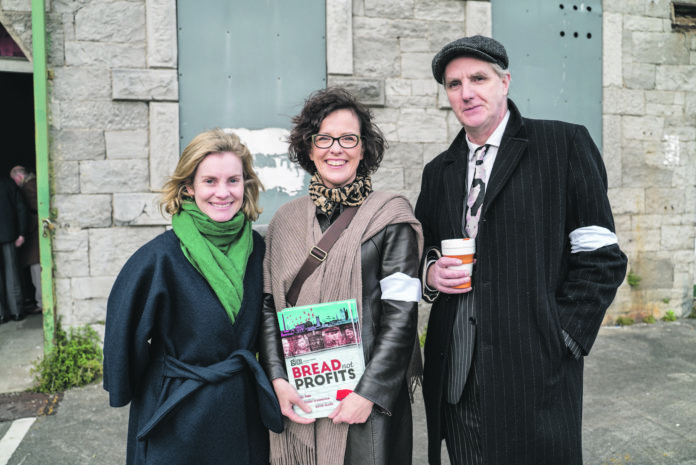 THE After Dark team dropped by for opening night of the hugely popular 'Bread Not Profits' play on April  17 by the Shannon river. Our photographs are from the Cleeve's factory site where the production is staged until Saturday 27 and we have photos from Limerick Strand Hotel where the after party was held. The sell-out show features 11 actors, three musicians and a community ensemble. 'Bread Not Profits' celebrates the centenary of the Limerick Soviet, for which workers in Limerick declared a general strike in defiance of the British Army. The exciting production brings history to life with a truly impressive piece of immersive theatre.
Written by Mike Finn of 'Pigtown' and 'The Unlucky Cabin Boy' fame and directed by Terry O'Donovan ('On the Wire'), 'Bread Not Profits' features music by David Blake (The Brad Pitt Light Orchestra). It was developed as part of Mike Finn's year-long residency at Belltable as theatre artist and is funded by The Arts Council. Running until Saturday, April 27, the show sold out weeks ago.
Sign up for the weekly Limerick Post newsletter
Those lucky enough to secure a ticket enjoyed a once in a centenary experience with the dramatic retelling of a unique time in history. Being on-site at Cleeve's adds hugely. Afterwards people made their way to the nearby Strand Hotel to toast the hard work and vision that went into the brilliant promenade production.