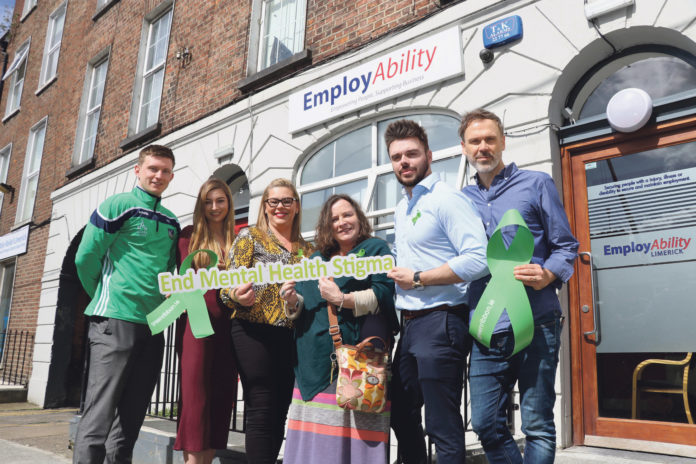 GETTING people to start the conversation and end the stigma associated with mental health issues is a drive which will be going ahead in Limerick next month.
For the month of May, EmployAbility Limerick is joining forces with See Change, whose aim is to reduce the stigma associated with mental health problems and challenge discrimination, by partnering with the Green Ribbon Campaign.
Sign up for the weekly Limerick Post newsletter
EmployAbility Limerick assists and supports people who have an injury, illness or disability in returning to work and maintaining employment.
The annual Green Ribbon Campaign takes place every May, as part of Mental Health Awareness Month, and aims to get people talking openly about common mental health problems.
Ursula Mackenzie from EmployAbility Limerick explained why they got involved.
"Stigma is very often one of the barriers to hiring someone who has a disability, particularly mental health illness, and we, just like a lot of other organisations and businesses, have been supporting this campaign for a while now, however, we took it upon ourselves this year to go a little further".
ABC for Mental Health is an organisation set up to promote a healthy and open attitude towards Mental Health. ABC stands for Awareness, Belonging and Creating and since 2014, they have been organising talks and events in Limerick to promote Green Ribbon month.
Group member Amanda Clifford said they would like to get people together, who want to make a difference, to feel they belong, to come to our events. Alone we can do little; together we can do so much!"
This May, EmployAbility Limerick is asking local businesses to 'Light up Green' with exterior lighting to help "Say 'No' to Mental Health Stigma".
Alternatively, people can host an event on Tuesday, May 7 as part of the National 'Time to Talk' Day- this can be anything from in house mental health promotions or coffee mornings.
Employability Limerick will also host a 'Time to Talk Day' event in Ruby Sundays Café on May 7.
For more information on how to get involved email [email protected] or phone 061 493095.