IN SUPPORT of a new Hunt Museum Public Garden, Friends of the Hunt Museum are looking to enter a team for the JP McManus Pro Am 2020.
Prior to this celebrity tournament that brings the world's cameras to Adare Manor and its golf resort, there is a Singles Stableford qualifying competition to arrange for September. It's all part of a fundraising drive to fund an outdoor capital project that will dovetail with Limerick2030's plans to showcase our city riverfront.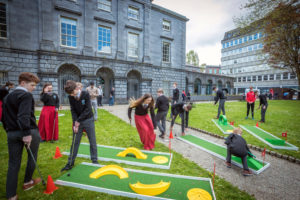 "Coinciding with RiverFest for which we have a Crazy Golf Pitch in the Hunt Museum Garden, the press launch for the Hunt Museum Pre Qualifier was at 12.30pm this Friday May 3," reports Museum director Jill Cousins. "Golf-playing former rugby internationals Philip Danaher, David Wallace and Damien Varley came along in support.
"The idea for the garden is to take the railings down and open up the views to the Shannon River, where the Limerick 2030 vision is to have Limerick's world class waterfront. We hope to take the Museum into the garden. Through the golf  pre-qualifer and the Pro Am, we can raise enough money to create 3D digital reproductions of the Hunt's Collection outdoors so children can play with and learn from them."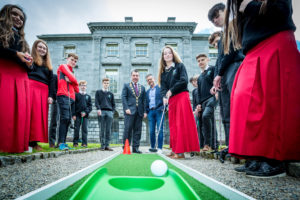 Let the games begin. News of the golf gig was launched this Friday by the chair of the Hunt Museum Golfing Committee, Juan Fitzgerald and Mayor of Limerick James Collins. This Hunt Museum Pre-Qualifier will be a Singles Stableford Competition and take place on Thursday September 12 and  Friday 13 at the Limerick Golf Club. 
A group of four players will be €400, individuals €100. This includes lunch and refreshments and a Pro Am Entrance Cap.
Contact [email protected] and tel. 061-312 833.
The Hunt Museum is a registered Charity, number CHY 10808.