Anticipation is building across the city for the new Live at the Docklands series happening over the June holiday weekend.
Madness, Jenny Greene with The RTE Concert Orchestra and The Coronas will entertain more than 10,000 punters on the Dock Road.
Promoter Mick Dolan says: "The Live at the Docklands series will be all about giving audiences a spectacular audio-visual experience. The three concerts we have lined up over the June bank holiday weekend will each give a unique concert experience on the banks of the River Shannon."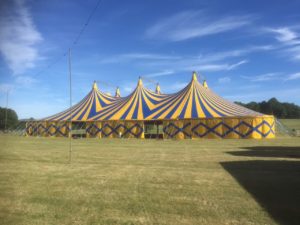 This 'mobile stadium' is a six pole marquee with full blackout capabilities for lighting and special effects provided by UK based company Mobile Structures. The company provides these huge structures regularly for Glastonbury Festival, Walt Disney's World On Ice, and the Live at the Marquee in Cork.
Access to the Live at the Docklands concerts will be via the Atlas Avenue entrance to Limerick Docks. This entrance will be located just opposite Casey's Londis on the Dock Road.
Live at the Docklands will open on Friday, May 31 with Madness (pictured). The band is in the middle of a UK tour and the gigs are getting rave reviews with the nutty boys delivering from their dozens of Top 40 hits, among them, Our House, It Must Be Love, Embarrassment, Baggy Trousers and the big finale 'Night Boat to Cairo'.
Jenny Greene and the 48 piece RTÉ Concert Orchestra will be joined on stage by some very special guests on Saturday June 1 playing an epic set of dance anthems.
The Coronas will be joined Ryan McMullan, Thanks Brother and Josh Gray for a show-stopping night to round out the 2019 Festival on Sunday 2.
There will be Docklands after-parties in Dolan's Warehouse every night over the weekend with special surprise guests.
Tickets at www.dolans.ie