LIVE At The Docklands kicks off on Friday night under the large blue and yellow tent that is the newly added feature to the Limerick docks.
Dolans is almost twenty five years in the city and what started out as a small trad bar on the Dock Road has now developed into the largest music venue in Limerick.
Valerie Dolan of Dolans, who is running the three day festival, gave a brief history of the iconic and award winning venue.
"We wanted a little trad pub and that's what happened. It was very successful quite quickly within a few months and then we had to buy the warehouse as a fire exit.
"We bought it and as the acts moved on, we moved on with them because as they were getting bigger crowds we needed bigger venues. We are so lucky and so looking forward on our 25th year in Limerick to have this beautiful marquee," Valerie Dolan said.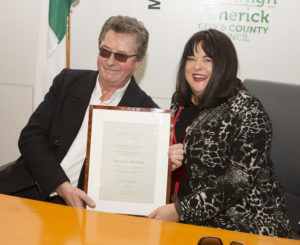 Limerick to date has never had its own music festival spanning across an entire weekend but that is all about to change.
"It is incredible, it's what happens when people get together to do things. We've had great rapport with the docklands and with the council about this gig and it has made life so much easier.
"The powers that be are behind this gig. They want things to happen in Limerick and things are happening and we are delighted to be part of it", she added.
The location is somewhat a mystery to the people of the city as it is a closed off area open only to shipping personnel but now there is an opportunity to get behind the great high grey walls.
This weekend will see thousands of people travel along the Dock Road taking a turn down opposite Casey's petrol station and into the magnificent marquee to dance the night away to the music acts. The performers are attracting a plethora of people to the city this weekend.
"We are lucky as well that the bands have come. This is the first time Madness are in Limerick. We have had the orchestra before with Declan O'Rourke and The Coronas started in the upstairs venue in Dolans and there was only thirty people there.
"So we have gone with the bands and the bands have come with us. We are really happy about that," Valerie said.
Dolans are celebrating a significant birthday in Limerick and plan on celebrating in style.
"We are twenty five years in Limerick on the 19th of December so this is only part of a series of gigs that we want to do to celebrate our twenty fifth anniversary so hopefully all those bands will come back," she added.
The three day festival kicks off on Friday with ska group Madness taking to the stage. Saturday sees the ever popular Jenny Greene and the RTE orchestra along with Gemma Sugrue to help relive clubbing days. On Sunday firm favourites The Coronas will top off the bank holiday celebrations.
For tickets and information on Live At The Docklands checkout dolans.ie.