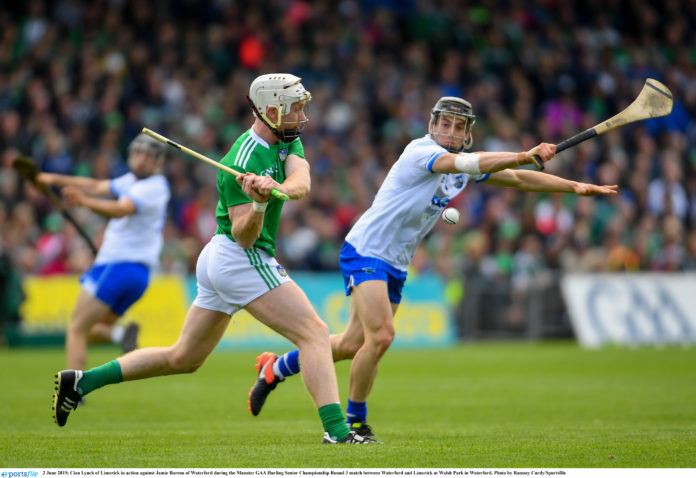 Mike Casey, Paddy O'Loughlin, Cian Lynch and Gearoid Hegarty have been rewarded for their stellar performances in Walsh Park on Sunday as they are named on the Official GAA Hurling Team of the Week.
Casey and O'Loughlin, who was making his senior Championship debut, were both instrumental in holding the Waterford team to just 0-10 over the course of the 70 minutes.
Current Hurler of the Year, Lynch was his usual busy and creative self in midfield, nullifying the threat of Jamie Barron as well as setting up numerous scores, whilst getting on the scoresheet himself.
Gearoid Hegarty was named Man of the Match in Walsh Park and has also been nominated for Hurler of the Week which you can vote for on their official Instagram page here.
Tipperary have eight players on the team, Dublin two and Antrim with one.
Official GAA Hurling Team of the Week
1 Brian Hogan (Tipperary)
2 Mike Casey (Limerick) 3 Eoghan O'Donnell (Dublin) 4 Ronan Maher (Tipperary)
5 Padraic Maher (Tipperary) 6 Brendan Maher (Tipperary) 7 Paddy O'Loughlin (Limerick)
8 Cian Lynch (Limerick) 9 Noel McGrath (Tipperary)
10 Gearoid Hegarty (Limerick) 11 Neil McManus (Antrim) 12 Patrick Maher (Tipperary)
13 Seamus Callanan (Tipperary) 14 Eamonn Dillon (Dublin) 15 John McGrath (Tipperary)
The post Four Limerick players named on Official GAA team of the Week appeared first on Sporting Limerick.