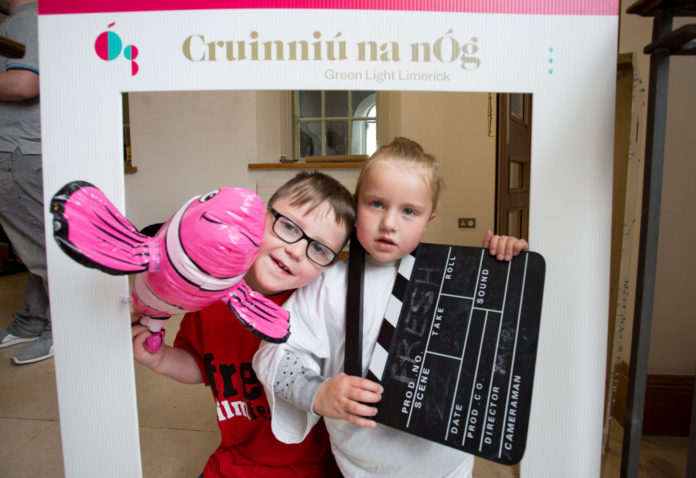 Over 30 free creative activities for under 18's as part of Creative Ireland Programme initiative supported by Limerick City and County Council and RTÉ
Mayor of the city and county of Limerick, Cllr James Collins is calling on all children and young people to fire up their imaginations and take part in one of the free Cruinniú na nÓg events that will take place around the county on Saturday 15th June 2019.
Now in its second year, Cruinniú na nÓg celebrates and encourages participation by children and young people in creative activities in their local neighbourhoods and communities.  Led by the local Limerick Culture and Creativity Team, with huge support from local artists, arts organisations, creative practitioners and community festivals, activities include everything from free outdoor film screenings to stop motion animation workshops and shadow animation. With a strong emphasis on participation, activities are specially designed to spark an interest and encourage the inner creative in children to try something new or fulfil a secret ambition!
Said Mayor Collins, "Ireland is the first, and only, country in the world to have a national day of free creativity for children and young people under 18. Limerick invites young people and children of Limerick to celebrate culture and creativity through the interdisciplinary medium of film. The exciting programme of events on Saturday 15th June,  will span across the city and county of Limerick, including film production workshops, arts and creativity workshops, screenings and a special highlight of the day, a Young Film Convention at our offices in Merchant's Quay. Come and enjoy all the fun free activity in libraries, parks and cultural venues across Limerick."
Highlights of this Limerick's Cruinniú na nÓg include:
Shadow Animation workshops 5-10yr Olds Libraries Granary Limerick, Watch House Cross, Dooradoyle, Adare, Kilmallock and Newcastle West
A hands-on 3-hour workshop for teens interested in filmmaking, called One Minute Wonders! 14-18-year-olds Limerick Youth Services City Centre, Killfinane, Newcastle West and Cappamore
Stop Motion Animation Hunt Museum 6-8 & 9-12-year-olds : These fun and exciting workshops will enable young people to experience each step of the Stop Motion process to produce a short animated film
Minister for Culture, Heritage and the Gaeltacht Josepha Madigan TD said:   Although only in its second year, Cruinniú na nÓg has already grown in ambition and scale with almost double the number of free activities taking place across the length and breadth of the country this year. This unique and important initiative helps us to deliver on our promise to enable the creative potential of every child and to give them the sense of accomplishment that comes with participating in a creative project that really triggers their imaginations.
Each of the activities and events have been carefully curated by our network of passionate and committed Culture and Creativity teams across the country. I would like to particularly thank the local authorities and RTÉ, who have been enthusiastic partners and collaborators on this event from the beginning, and also the many artists, arts and youth organisations, creative practitioners, festivals and communities who have helped to make this exciting new day of youthful creativity for children and young people a brilliant success."
Dee Forbes, Director-General, RTÉ, says: "Creativity and community are at the heart of RTÉ's new mission statement.  They are also core principles of the Creative Ireland Programme's Cruinniú na nÓg, which makes this partnership especially important for us. Encouraging and supporting opportunities for children and young people to come together to experience and explore their creative potential is a brilliant initiative. The diversity of creative activities available from gaming to a starter course in stop-start animation to Japanese kite-making is part of what makes Cruinniú na nÓg so unique.
RTÉ supports over 130 arts and cultural events every year so recognizing and enabling artistic endeavour and creativity is something we take very seriously. We look forward to sharing in the excitement and fun on Saturday, June 15th when the next generation of Ireland's future creatives take centre stage on this very special day."