A MAJOR security operation costing €10 million to protect the US President Donald Trump on his visit to the mid-west swung into action this Wednesday.
Two thousand gardai are being deployed daily to Co Clare, and are working closely with personnel from the Defence Forces as well as the US Presidents own team of Secret Service agents.
Mr Trump arrived at the airport, although not on board Air Force One as expected on Wednesday. He held a bilateral meeting there with the Taoiseach and the Tanaiste.
The US President was then expected to fly by helicopter to his hotel and golf resort in Doonbeg before departing for France on Thursday, to commemorate the 75th anniversary of the allied troops D-Day landings during World War II.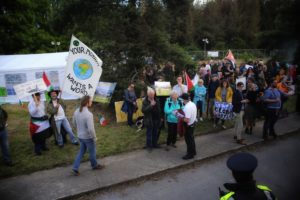 John Lannon, one of those protesting at the Shannon Airport Peace Camp, organised by anti-war group Shannonwatch, said: "Our main protest issues are the manner in which Trump and US foreign policy are damaging the world with their disregard for the environment and their ever-increasing levels of militarisation."
"This is particularly relevant at Shannon, as Shannon Airport appears to have become a de facto US military base. The US, under successive Presidents, have been using it to take troops to and from wars that have caused untold damage and loss of life in the Middle East, and that's ongoing," he claimed.
"About three million US troops and their weapons have come through Shannon Airport since 2002, and we have daily landings of military contracted planes and other US military planes. There has been no attempt to inspect those or to see what is on those planes."
Mr Lannon also claimed "the use of Shannon by the US military is a breach of our neutrality", a charge consistently denied by the Irish government.
Fifteen hundred uniformed gardai are deployed to Clare daily, from the Western, Southern, South Eastern and Dublin region. Uniformed officers are being supported by around 500 officers daily who are attached to specialist units.
A live video feed of security operations at Shannon and at Doonbeg is being monitored at a 24-hour manned Strategic Control Centre at Shannon Garda Station. The live video feed is also being monitored at Garda Headquarters in Dublin.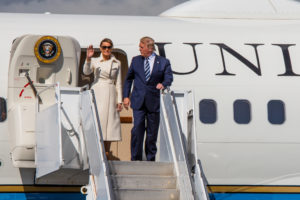 Specialist garda units on patrol for the duration of President Trump's stay include, the armed Emergency Response Unit; Armed Support Unit; Public Order Unit; Water Unit including four ribs and sub aqua divers; sixteen members of the Dog Unit; ten members of the Mounted Unit; Air Support Unit; DMR Roads Policing Escort Unit; and the Telecommunications Unit.
Clare Chief Superintendent Michael Gubbins said officers stationed on the Presidential beat will consume "approximately 8,500 meals a day" washed down with "over 40,000 bottles of water".
"Catering is very important because a full guard is a happy guard. We have tuck trucks going around at nighttime to make sure the members are okay, and that they get plenty of relief," Chief Gubbins added.
A three-kilometre long security barrier and fencing has been erected along approach roads to Shannon Airport, and gardai advised motorists and airport users to "allow extra time" for journeys.
Gardaí, however, said they were not expecting any trouble as those protesting against Mr Trump's visit, gathered at a "Peace Camp" close to the airport's perimeter fence.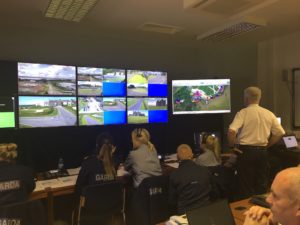 As a precaution, a tactical firearms adviser and a garda negotiator were on standby to provide instant support should they be needed, added Superintendent Liam Geraghty, Garda Press Office.
A human rights advisor was also monitoring live video of events from the garda strategic control centre.
The Garda Helicopter is also providing a live video feed to the Garda control centre which is also connected into the airport's live CCTV system.
A live GPS mapping system allows the control centre to pinpoint where every Garda is located around Shannon and Doonbeg.
Garda cameras installed around the airport and Mr Trump's hotel in Doonbeg are "running 24 hours and have night vision capabilities," Supt Geraghty explained.
Around a dozen or so gardai are manning the control centre at any one time, including, radio operators and note-takers, who are constantly monitoring what's happening.
District Superintendent Brendan McDonagh said the control centre is referred to as "The Bush Room" as it was first introduced when former US President George W Bush visited the county in 2004 for an EU US Summit.
Garda manpower during President Bush's 18-hour stay then cost the State a staggering €8m.