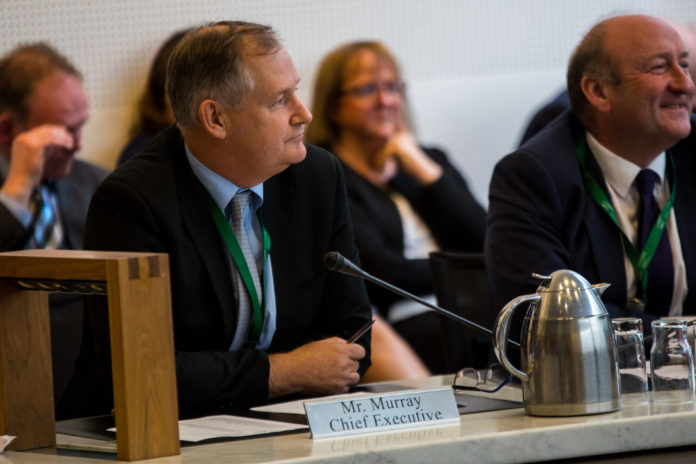 FOLLOWING confirmation that Limerick City and County  Council chief executive Conn Murray is to leave the role next August, newly elected Mayor Michael Sheahan said Mr Murray's name "is writ large in the annals of this proud city and county as one of our finest".
Mr Murray confirmed his decision in a letter to Mayor Sheahan, councillors and staff on Wednesday morning in which he said it had been an honour and a privilege to serve as Chief Executive over the past seven years but the time had come to move on.
"I have had the pleasure of serving the public in many different capacities over the last 40 years as I developed my career in local government. The last seven years back in Limerick have, on a personal and professional level, been the most rewarding," he stated.
"It has been an honour to provide a vision and direction for Limerick City and County Council and help create the relationships, partnerships and strategic direction that have been a real strength of the collaboration between our stakeholders and partners.
"As of August 14, my contract of employment with Limerick City and County Council ends and the time is right for me to move on. I do so with a great sense of satisfaction over what we have achieved together. We have an exceptional executive team, committed and dedicated staff and a body of elected members determined to turn many more positive pages in Limerick's great story."
Responding to the announcement, Mayor Sheahan said: "While we respect the decision of Conn Murray to move on to pastures new and wish him well on this new phase of his life, we do so with heavy hearts as, in the fullness of time, he will be recognised as among the key architects of the incredible economic renaissance that Limerick has undergone over the past five years or more.
"When he came back here seven years ago, he was met with a city and county that was getting back on its feet and divided from an administrative perspective. In the interim, he has not so much overseen, but led the amalgamation of the local authorities, and with it the biggest single change-management programme in local government history.
"Simultaneously, he put in place the building blocks for an unprecedented economic upturn that has transformed the city's economic, social and cultural profile. For our citizens and those who come here afresh to live and work in the Mid-West, it is in no small part because of the visionary leadership Conn Murray gave this city and county at a critical time in its history."
---
A man with many tasks

Conn Murray began his career in his native County Meath and worked in a number of local authorities, including Tipperary, Limerick, Cork, Waterford and Louth.

In August 2012, he was appointed Dual Manager of both Limerick City Council and Limerick County Council before taking up his role as Chief Executive of the new amalgamated Limerick City and County Council in 2014.

He is currently a Board member of the Land Development Agency, the Housing and Sustainable Communities Agency, a member of Board of Governors of Mary Immaculate College, a member and former chairperson of the County & City Management Association and currently chair of CCMA Housing Committee. He served on the National Fire Directorate and the Board of Local Government Management Agency.

He was also chairman of the Change Management Committee of the Local Government Management Agency for a number of years and serves on the Local Authority National Council and the Oversight Group on the Haddington Road public service pay agreement.
---
Mayor Sheahan said that the key statistics from Mr Murray's period in charge speak for themselves.
"We have, in the past five years, seen over 15,000 new jobs and €2billion of planned investment bound for Limerick. The blueprint for this success has been 'Limerick 2030: An Economic and Spatial Plan for Limerick' – a once in a generation plan delivered by Conn that has steered the recovery of our city and county, a recovery that has urban centres across the nation and beyond looking on in envy.
"Initiatives like Limerick Twenty Thirty, which is going to be transformative for the city, advancing the Regeneration programme, the creation of the largest economic unit in any local authority and implementing the Ireland's first National City of Culture programme all came under his watch."
He added: "It's been a remarkable period for the city and county and while we had our challenges, as all local authorities do, at no stage could we doubt the fact that we had the right person in the right place at the right time in Limerick. It was a time that we needed courage and creativity and Conn Murray brought this in abundance.
"His loss will be cushioned by the shape he leaves the local authority in. He will, however, be sorely missed and but his name is writ large in the annals of this proud city and county as one of our finest."
by Tom McCullough