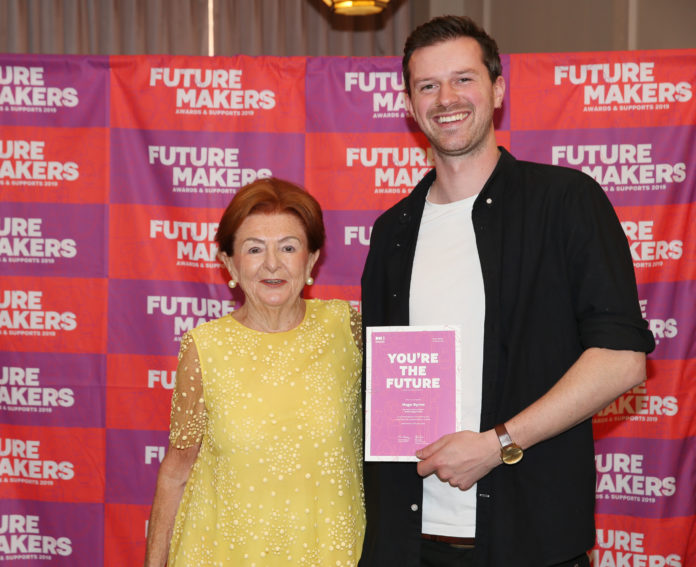 TWO 
emerging designers and craftspeople from Limerick have been announced as recipients of the Design & Crafts Council of Ireland's (DCCoI) Future Makers Awards & Supports programme for 2019.
Future Makers is one of Europe's largest prize-funded award programmes for students and emerging makers and a total of €25,000 was awarded to 23 designers and craftspeople this year. 
In the Emerging Maker category, metal worker Hugo Byrne was awarded Studio Support of €1,000. Hugo makes his knives using a combination of traditional and contemporary techniques and is based in Limerick City.
In the Student/Recent Graduate category, Material Support (€500) was awarded to Hong
Breege O'Donohue, chair of the Design and Crafts Council of Ireland, is Hong Zhang.
Photograph: Leon Farrell / Photocall Ireland
Zhang, a fashion design student at Limerick School of Art & Design. Hong is originally from China and had worked there before moving to Limerick City. While studying here she became drawn to Irish fabric, especially Irish wool and its history and sense of place.
Divided into student/recent graduate and emerging maker categories, the Future Makers Awards & Supports programme recognises and rewards vision, innovation and excellence in both making and the creative process and is one of several DCCoI initiatives supporting a new generation of talent in the design and craft sector.
Celebrating its 10-year anniversary in 2019, this year's prize fund was increased to €25,000 reflecting DCCoI's ongoing commitment to supporting and investing in the potential of talented makers that are in the crucial early stages of their career journeys.