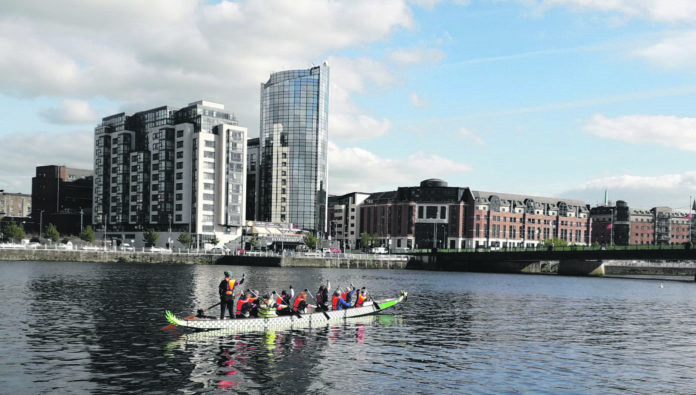 IT STARTED more than 2,000 years ago in China but now the colourful phenomena that is Dragon Boat racing has found a new popularity in Limerick.
And the Limerick Dragons are celebrating having acquired a new home in the Cleeves factory, that allows them to get out on the water several times a week.
Now with around 30 members and a whole raft of other activities including walking, swimming and a lot of fun socials, the club is hoping to welcome new members.
"We would be delighted for anyone who has an interest to come along and have a go at paddling," said Alice Farrell, club PRO.
"We need at least ten people to take a boat out. The boat can hold 22 and it really is a lot of fun," she told the Limerick Post.
Prospective new members don't have to be ultra-fit or even able to swim, as everyone wears lifejackets.
The Limerick Dragons were originally set up for breast cancer survivors, family, friends and supporters but is now open to anyone over 18 who is interested.
The Dragons went to their first World Championships in Florence with a crew of six as part of the Wild Atlantic Warriors team last year.
"We raised enough to buy our first dragon boat and we need to buy a safety boat, we have ongoing expenses and are trying to raise funds to keep our fantastic club alive," added Alice.
"We aim to regain our health and fitness through Dragon Boat Paddling, walking, Nordic walking and aquatics. We have four qualified Nordic walking instructors among our members.
"This is all about exercise for fun and meeting new people. Our website is updated regularly with information on all our activities.
Full details at www.limerickdragons.ie