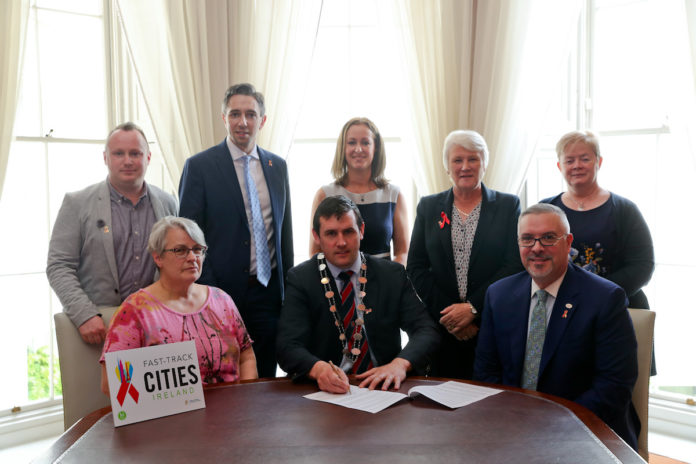 LIMERICK based organisation GOSHH (Gender Orientation Sexual Health HIV) along with Limerick City and County Council have signed up to a global initiative aimed at boosting HIV prevention and treatment.
Limerick, along with Dublin, Cork and Galway, is part of the HIV Fast Track Cities initiative which will be kick-started by a €450,000 funding package.
Cllr Frankie Daly, who signed the contract on behalf of Limerick City and County Council said: "It is important that we help and support those who have HIV or for those who want to get tested.
"Limerick has now signed up to the Fast Track Cities initiative, which will help those in the fight against HIV.  We will work with GOSHH  on Davis Street to ensure that those who need support gets it in a timely manner.
"GOSHH focuses on the promotion of equality and wellbeing of all with a positive and respectful approach to sexual orientation and gender diversity".
The funding will support community HIV awareness and testing as well as a national stigma reduction campaign, to be delivered by the HSE Sexual Health and Crisis Pregnancy Programme with HIV organisation partners in each city.
The funds will also allow the community HIV testing programme to expand further, to incorporate other at risk populations, such as migrants. The target is to conduct 3,250 tests in 2019.
Manager of GOSHH Ireland Ann Mason said "HIV doesn't discriminate, so neither should we, and this initiative will address a global issue at a local level where testing and treatment will be standardised and accessible throughout all partner cities". This initiative is a global partnership between almost 300 cities in collaboration with the Joint United Nations Programme on HIV/AIDS and the International Association of Providers of AIDS Care (IAPAC) and was launched in Paris in 2014.
Taoiseach Leo Varadkar said that the Government wants to make it easier for people to get tested and know their status. By working at local level, HIV rates can be reduced across the country.
Health Minister Simon Harris said: "Sexual health is one of our key priorities under Healthy Ireland and reducing the number of new HIV diagnoses in Ireland is a priority focus for me".