As the only Irish Fashion school invited to show annually at London Fashion Week, LIT Limerick School of Art and Design's Fashion Course is a bright star in the international firmament.  Department head Anne Melinn shares the secrets of its success, ranking in the CEO Magazine and 'Top 50 Fashion Shools and Programs Across the Globe' (Robin Wilding 2012).
Leadership
ANNE Melinn is remarkably reticent when it comes to claiming credit for the Limerick School of Art and  Design's burgeoning reputation on the international stage.
"We are celebrating our 45th year next year, so I suppose you have to look at the people who initiated the course to begin with. So there was Pam McCarthy who is still alive and with us and very supportive of the course and Niall O'Carroll, a tailor.
"Pam was a feisty, determined, ambitious woman and I was lucky enough to have her teach me.
"Her skill was to surround herself with the best, with good people so she then brought in this wonderful woman Patricia Kielthy. And it was Patricia who would have brought in the design and developed it more towards a fashion design course rather than sewing – going from a City and Guilds Course through to a Diploma/ Degree course."
Patricia Kielthy succeeded Pam and Fashion @LSAD was honed to a rigorous competitive standard.
Competitive spirits
"I SUPPOSE the competition circuit years ago was great because you had colleges competing against colleges. There was the Wool Secretariat Award sponsored by the Irish Weavers and then you had Smirnoff Award, Satzenbrau Awards – oh, God, they are all gone – and Nokia Awards. There was a Jim Kemmy Award here which Celia Holman Lee was very much involved in.
"So we actually started to enter and started to win and that was encouraging. The work placement and internship part of the course are probably one of the secrets of our success."
"Erasmus funding helps with locating students to a European country but, with Brexit going on, everything is up in the air."
She references the Irish diaspora living from India to Australia that helps secure those travelling for training: "Fashion is very international."
Who makes the cut?
HALF a dozen nationalities are graduating from the Clare Street campus.
"A student came from Paris to study with us and we have three Canadian students who came here last year to do their degree."
"We look for someone who is hardworking, passionate, willing to learn and also willing to work with people, like team player.
"Honestly, I think you are born with it. It's an amazing course and an amazing industry to go into but it is extremely competitive. extremely hard work. You have to love it, eat it, drink it, live it, sleep it, bottom line.
"But very quickly you are identified as to whether you are going to make it or not, whether you will survive or not, within the system and then outside it."
That 40 per cent of LSAD's course is technical is a signal strength. Innovation is constant. There's a Fashion Incubator to foster projects, a Centre of Excellence.
"Another secret to our success is that we are creators and makers, so they have to be able to both create and make.
"I think initially it is all about being creative and we don't talk about a budget. We actually don't use the word 'commercial' at those early stages. God, no, it's not part of our remit. That's limiting you too soon, too quickly. It's all about being able to nurture the creative side and all of their possibilities.
"Also, identities and individualities are huge. We don't have an LSAD signature as such. We have an LSAD ethos and approach but the students are all individuals."
External traction
"We have a lot of visiting lecturers from the industry. We have the best and we surround ourselves with the best and I think that is our secret and we benchmark with the best."
Critiques, deadlines, training, networking, social media and work placements contribute to accomplishment and "our alumni have been incredibly supportive. They are our lifeline."
Employment prospects are terrific, especially with LSAD being "the only college in Ireland that has the Gerber digital pattern cutting system. We have a technical side that is incredible."
Now the Royal College of Art wants to collaborate with LSAD in research, design and digital development, in tandem with college and industry.
A case of Limerick leading with Britain's most prestigious in Fashion and Design innovation and education.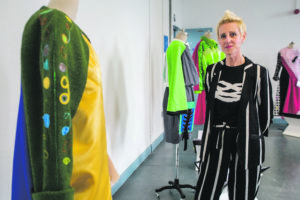 Soul talk:
AS a young LSAD graduate Anne Mellinn went on to New York for ten years, attending the Fashion Institute of Technology to complete a Masters."That was a life changing experience for me, as  you can imagine. The FIT is in the heart of the garment district of NY."
She looks back with delight at the formative years. She won the Ruth Sharf Critic's Award, "so that was a stepping stone for me as that obviously opened doors with respect to getting good jobs. I got good jobs. I worked with Gap, with Donna Karan, I did a lot of freelance work."
Downtime?
"I love to walk. I have climbed the four highest mountains in each province – I'm quite competitive, believe it or not. I love yoga, I love music and I love going to gigs.
"Obviously art and museums are my food for creativity. I love going to movies.
"I live outside Killaloe and that's the most beautiful place in the world…It is my haven. You need to have downtime because you need to get your nourishment and to come back in again."
Limerick?
"Limerick has been nothing but good to me and to the course, to be honest.
"Limerick Enterprise Office's Eamonn Ryan has been so supportive, Brown Thomas has been incredibly supportive, as has Limerick Institute of Technology. As with Jim Greenslade who has been my head of Design as has school director Michael Fitzpatrick. Troy Studios were fantastic to our graduates and employed 12 students into their Costume Department and to be honest, within the art college have certainly employed a huge amount of people across all departments.
"I think sustainability is very important. I think up-cycling, recycling are very important and we don't need to be buying as many clothes so we can take care of the environment.
"It is an absolute privilege to work here. Every day I feel so blessed. I actually do love Limerick. I am from County Westmeath and to be honest, Limerick has given me education, my career so this is my home.
Tough times?
"As for handling difficulty, I think you have two choices in life. You can choose to lie down or to get up, and I choose to get up."
Click on Cian Reinhardt's video to hear what underpins LSAD's invitation to show in London Fashion Week annually.