GALLERY Interlude, a joint project between Contact Studios and Lucky Lane, presents 'Scratch' by Seán Healy over four days this coming weekend.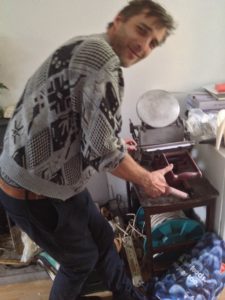 Everybody is welcome to the show opening this Friday 28, 7pm-9pm, and continuing the following Saturday 29 from 11am-5pm. 'Scratch' opens Sunday from 2-4pm and for longer hours on Monday July 1,  11am-3pm in Lucky Lane's indoor space on Catherine Street.
Sign up for the weekly Limerick Post newsletter
"Healy's 'Scratch' is a nod to the occupants of Limerick, past and present," comments Gallery Interlude director, Carl Doran. "The works have been made from unwanted and/ or damaged artefacts, and are in effect interventions by the artist, creating and uncovering a new purpose and aesthetic."
On Friday from 7.15pm to 8.15pm, the public is invited to make an original Letterpress print, assisted by team member, technician Isabella Walsh.
There will be a minimal charge for paper and the artist's signature, in effect creating a lighthearted but relevant talking point around what constitutes originality, and at what point do our actions translate base materials into art.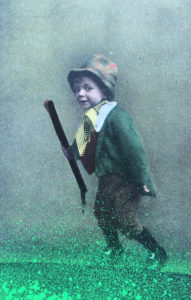 Over then for the launch night reception hosted by The Glen Tavern for this episodic pop-u show that continues the work of Contact Studios artists, dispersed  now under various roofs until the prolific team that they are, is housed again by Limerick Council or A Benefactor.
Biography: Sean Healy hails from Dublin and currently works in Wicklow. He holds a BA (hons) in Fine Art Painting from the Limerick School of Art and Design and has worked and exhibited locally, nationally and internationally. Outside of the field of painting, he has produced websites www.rustpainting.com / www.irishpainters.com and lends himself to helping other artist's produce work. Sean has also held various roles for an assortment of cultural activities, workshops, festivals, parades.