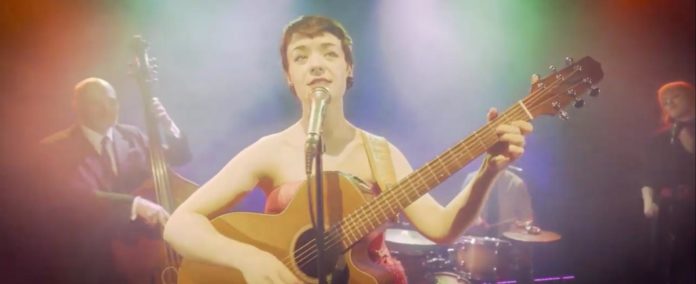 EMMA Langford has released a video for current release 'Goodbye Hawaii'.
Directed by Shane Serrano and filmed at Nenagh Arts Centre, the video is a no fuss, no frills representation of Emma's new single, allowing song and performer to shine in tropical colours.
The languid summer vibes and classic 1950s' swing of 'Goodbye Hawaii' mask the cutting humour in the lyrics that reflect on a relationship that has run its course.
"It's about putting on the facade of a perfect relationship," Emma states.
"You're past the honeymoon period, the spark is gone, and it's all kind of falling apart – so about two weeks in?"
Recorded with The Production Suite, Dublin (Chris O'Brien and Graham Murphy), the track features that by-now infamous 'trumpet solo' and it is one big highlight of Emma's gigs.
Expect the venue to erupt to this song when Emma headlines at the Limerick Summer Music festival happening at Rosbrien Pavilion on the grounds of the Old Crescent RFC this Friday July 12.
The Winner of an RTÉ Radio 1 Folk Award in 2018 is set and ready to play her biggest hometown gig so far. She will play her debut album Quiet Giant in full. Emma will be joined by a host of artists from across Ireland, Europe and the US for this unique concert.
The 'Quiet Giant' band are Peter Hanagan on double bass; Alec Brown on cello; Hannah Nic Gearailt on keys; Ray Yrure on percussion; Tadhg Murphy on violin. Emma and band will be joined by special guests Kealan Kenny on electric guitar and lap steel. Internationally acclaimed violin duo Lucia MacPartlin and Maria Ryan and the Soul & Body Dance Quartet and new, vibrant community group The Clef Choir led by Darragh Wynne will also join Emma on stage.
www.emmalangfordmusic.com/tour for all dates and ticket links. Twitter.com/elangfordmusic for all the latest news.