LIMERICK World Pride was the theme of this year's Limerick Pride Parade which saw participants take to the streets of Limerick City showing solidarity with the global LGBTQ+ community.
People travelled from as near as Limerick towns and as far as the USA to celebrate the Limerick Pride Festival which was marking 50 years since the Stonewall Riots which were remembered the following year with Pride marches in cities across the USA.
This year's @limerickpride Grand Marshal as the parade makes its way up Limerick's O'Connell Street under blue skies #LimerickPride #Limerick pic.twitter.com/UQfigEhsTw

— Cian Reinhardt (@Chan_Bling) July 13, 2019
"I'm so excited there are so many people here for Pride today, this is the 50th anniversary of Stonewall," Richard Lynch of ilovelimerick told the Limerick Post, "and this year's theme for the Pride parade is 'Limerick World Pride' because as long as people don't have equal rights in other countries, we do need a Pride parade."
"We're not marching for ourselves, we're so blessed and fortunate in this country, we're marching for other people, we're fighting for other people all around the world that need equal rights.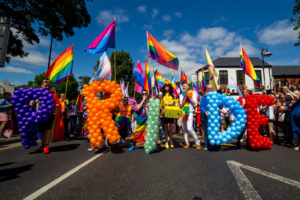 "This is not about LGBT rights, this is about human rights for all," he said.
The parade saw thousands, young and old, make their way up O'Connell Street from Merchant's Quay, and up Henry Street in Limerick with hundreds more showing support from the footpaths, before arriving at the Hunt Museum for Pridefest.