HAVING trained at Limerick School of Art and Design, the professional artist Robert P Ryan has worked out of his studio in Skibbereen. His first solo show in the 26 counties graces Limerick Museum on Henry Street. Paintings will hang for the month of July.  Robert P has created oil paintings under the mantle of 'Veil'.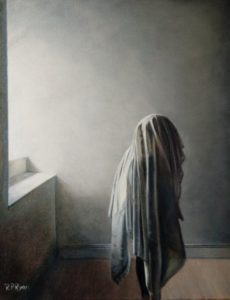 Speaking  of this shadowy thread throughout the exhibition, the painter, who grew up in Pennywell, says that "veils and shrouds are a recurring theme in my work and this show puts together pieces which are most representative of this. I enjoy painting how fabric folds and falls, as well as the play between transparency and opacity."
Sign up for the weekly Limerick Post newsletter
For this signal exhibition supported by museum director Dr Matthew Potter,  Robert P Ryan made 16 works, some not viewed hitherto publicly.
"These are all oils," he makes clear.  "I often work in a variety of techniques but the paintings here are all done in a more Classical method. I build the image up in a series of thin layers, refining the piece from the initial rough sketch, through to the black and white 'dead layer', and finally adding multiple colour glazes.
"It's time consuming but the results are worth it. "
The artist is appreciative of space at the central, authoritative venue which is the former Franciscan Friary.  "Finding opportunities to exhibit in Ireland can be difficult. I really wanted my first Irish (Republic) solo show to be in my hometown so when I heard that the Limerick Museum had a window, I jumped at the chance."
Admission is free for the month.