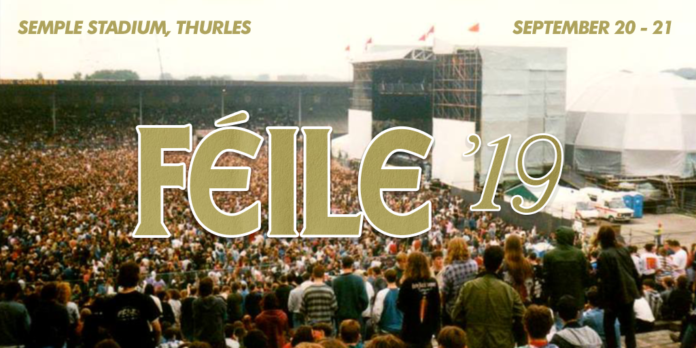 LIMERICK promoters CWB have teamed up with MCD and announced the re-branding and the expansion of their hit festival in Thurles which is now called Feile '19. The trip to Tipp returns this September 20 and 21.
Feile '19 has revived its original moniker with a host of new events and acts added.
Today Feile '19 has announced its latest headliner.
After announcing her intention to return to live music in a recent interview with DJ Dave Fanning and her stirring performance dedicated to the late Dolores O'Riordan on that show, Sinead O'Connor will now play her only festival show of this summer at Feile '19.
Sinead will be performing her own songs and some select hits from the Songbook of Shane MacGowan at the two day festival.
Nearly thirty years ago, FÉILE became Ireland's first ever multi-day music festival and it was like nothing the country had ever seen before. Punk, rock and rave fans came together to celebrate their love of music, the Irish live music scene exploding as a result. After a long hiatus, the festival made a much-anticipated return in 2018 as Féile Classical. This year, the festival returns to its roots as FÉILE 19, a weekend long festival built on the classic bands and unforgettable music of the 90s with a hugely impressive line-up and a host of fringe events across the festival weekend.
A host of other music acts from across the decades will be out in force, from Sultans of Ping to Horslips and Therapy? bringing everyone right back to the glory days of the nineties music scene. Other headline acts include The Stunning, EMF, The Frank and Walters, The Fat Lady Sings, Transvision Vamp, Something Happens, Eleanor McEvoy, Picturehouse and Mundy.
The line-up also includes Brian Downey's Alive & Dangerous plus Eric Bell and guests Andrew Strong & Bronagh Gallager performing songs from Thin Lizzy's Live & Dangerous. Attendees will be treated to a very special tribute to Tipperary legend Shane MacGowan.
Curator Tom Dunne commented
"Last year's Féile was the gig of the year for me and all the bands involved. So, to see this line up with the original Féile name back is very exciting! Féile to everyone means Thurles, Semple Stadium, the early 90's, mad crowds, great fun and a truly wonderful generation of great Irish bands. This year's line-up is better still. You will laugh. You will cry. It is time once again to… get the gang back together! This will be special. "
The whole of Thurles will come alive and continue the festival well into the night with silent discos, afterparties and a '90's Late-Night Live Music Trail'. There is a host of daytime activities including street performers and exhibitions taking place across the weekend.
Tickets are priced from €80 plus booking fee at www.thetriptotipp.com.