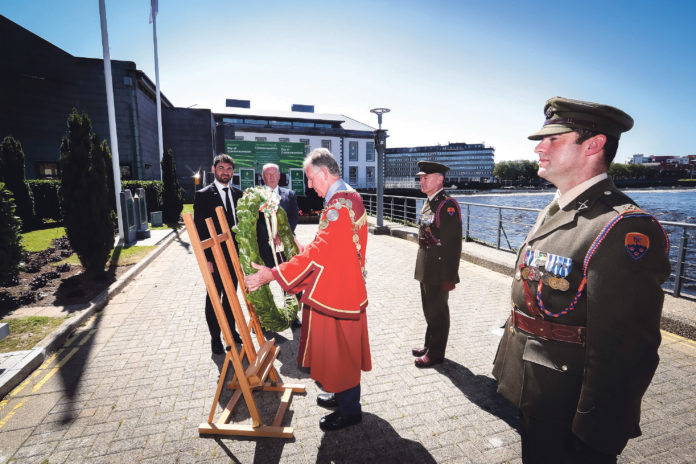 MEMBERS of the defence forces past and present turned out for a poignant ceremony at the weekend when Limerick City hosted the National Day of Commemoration to honour all Irishmen and Irishwomen who died in past wars or on service with the United Nations.
This is the ninth year that Limerick City and County Council have hosted the ceremony, which took place in the courtyard area in the grounds of the Corporate Headquarters at Merchant's Quay.
Sign up for the weekly Limerick Post newsletter
The ceremony is timed every year for the nearest Sunday to July 11, the anniversary of the date in 1921 that a truce was signed ending the Irish War of Independence.
The Mayor of the City and County of Limerick, Councillor Michael Sheahan laid a wreath honouring those who lost their lives, the National Flag was raised and a minute's silence observed.
The military and multi-faith ceremony was open to members of the public, with a guard of honour provided by the 12th Infantry Battalion based at Sarsfield Barracks in Limerick.
A wide cross-section of the community was in attendance including next-of-kin of those who died on service with the UN and ex-servicemen and ex-servicewomen.
Other ceremonies were held at centres around the country with the principal ceremony in Dublin.