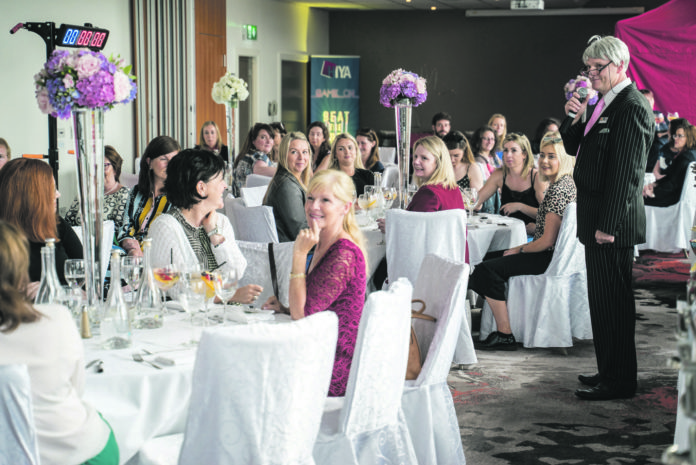 THE four star  Clayton Hotel Limerick knows how to  party in style. Blessed with its river frontage, commanding height and city location, this year saw the Clayton invest a good €250,000 in the stunning refurbishment of the Pegasus Suite.
Pegasus is the glass-fronted two storey build beside the hotel tower that is available for private hire.
Sign up for the weekly Limerick Post newsletter
All sorts of occasions present here, weddings, corporate launches, Confirmations, Communions and company or private BBQs on a grand scale – with professional entertainment thrown in.
Clayton's sales and marketing manager Elaine Ryan took Limerick Post through its scope. "We invested as much as we did in Pegasus Suite to bring it to peak performance. You can hire the entire 28m x 7m with its fully serviced kitchen, private bar and facilities or the generously sized function room can be divided into two or three different units, according to the scale of your event.
"We can seat 165 banquet style with the room fully dressed for a wedding, for example, or tailor in the space for a wedding-afters. Many people get married overseas and Pegasus Suite is the ideal forum for their wedding after-party. We have the full AV fit out that drops down for floor to ceiling video and projections, photographs."
For more casual parties, Business Spotlight can warmly recommend Clayton Hotel Limerick's BBQ special. At just €17.50 a head, there's a selection of salads, breads, dips and choice of meat and seafood cooked at Pegasus, the BBQ grilling on the heated balcony that rings the suite, plus DJ. The scenic backdrop is the westerly sunset over the river.
Parties of 80 or more attract a raft of complementary goodies from the hotel such as a welcoming cocktail reception, DJ, dancing, a bar extension, professional entertainment such as bingo and music games, and dazzlingly generous spot prizes gifted by Clayton's sister hotels.
"Because this hotel is part of the 40 strong Dalata group with Maldron and Clayton hotels in Ireland, the North and the UK, spot prizes are typically meals for two and breaks away in our hotels around the country."
Christmas parties have checked in already for December. Enquiries to 061-444105 and email [email protected]