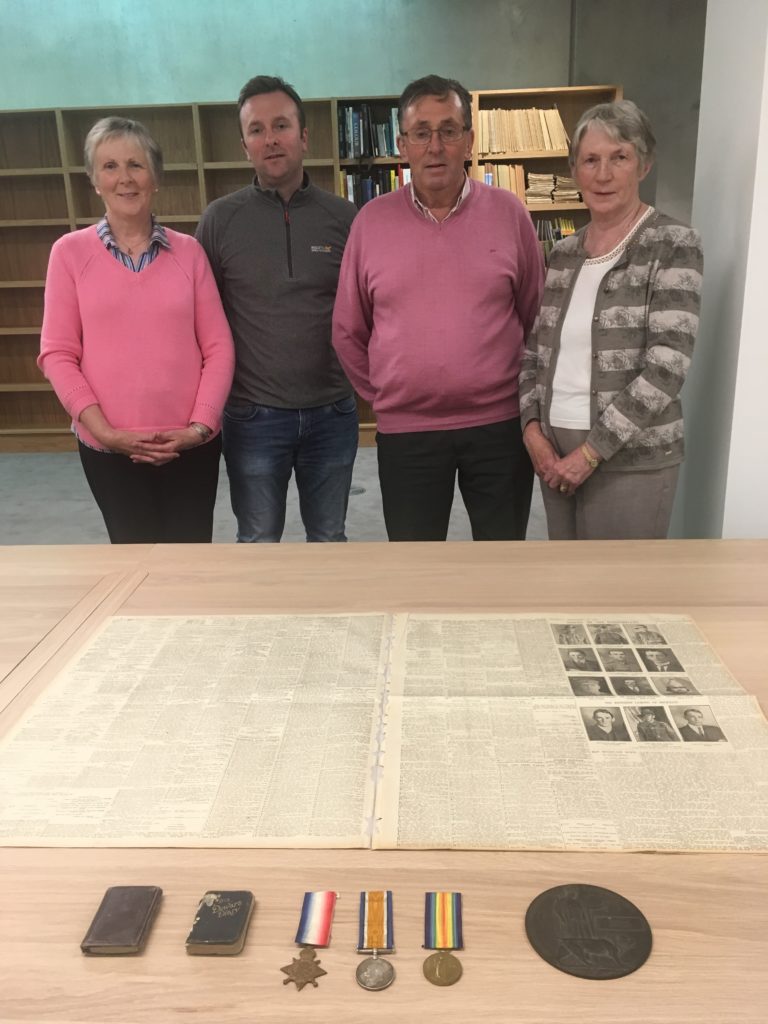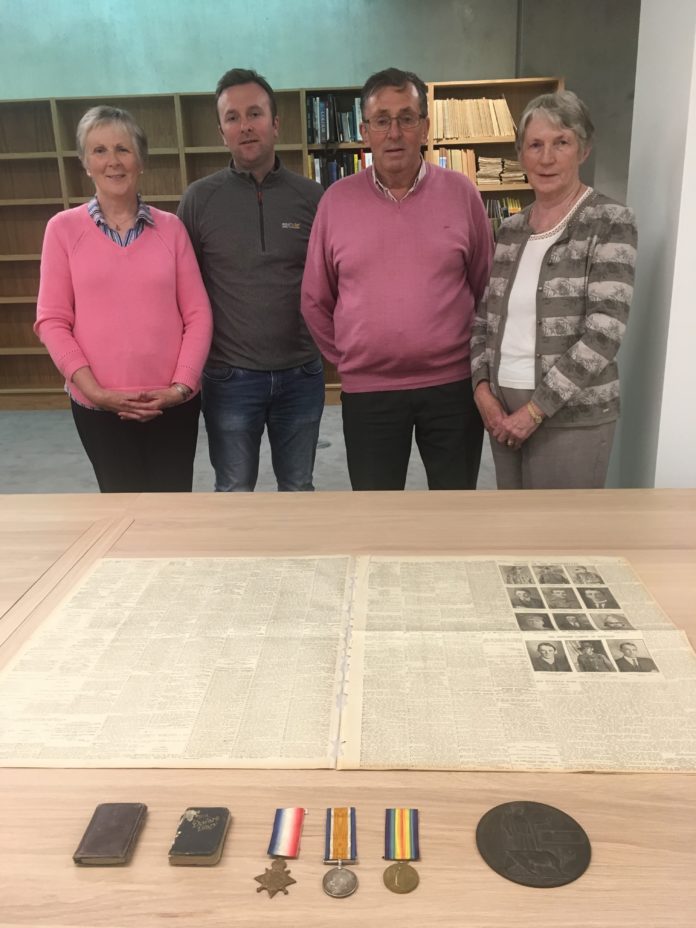 Relatives of a soldier killed in World War I have made a donation to Special Collections and Archives at University of Limerick's Glucksman Library.
The family of Thomas Noonan, a Limerick native and WWI soldier who died in service at Gallipoli at the age of 23, have added to the existing Noonan Collection at UL, which contains the soldier's diaries from the trenches, his military medals and the so-called 'Widow's Penny' memorial plaque received by his family.
Noonan's relatives visited the new special collections and archives reading room in UL recently to donate an original 1915 copy of the Sydney Herald newspaper, containing a feature on the Limerick man, who emigrated from Ireland to Australia in 1914.
The collection was donated by Michael Noonan Snr – nephew of the soldier, who was born on December 23, 1891 and lived with his parents Michael and Catherine Noonan together with his four older sisters and two younger brothers at Ballyguy, Barrington's Bridge, Co Limerick.
Thomas Noonan was educated at Murroe National School and later spent three years as an apprentice at McBirney's Drapery Emporium in Limerick city.
He was engaged in clerical work until May 1914, when the prospect of better opportunities, together with the added spur of relatives already there, encouraged his emigration to Sydney.
In September 1914, he enlisted as a private in the Australian Imperial Expeditionary Force.  Attached to the 13th Battalion, he spent periods of training in Australia and Egypt.
In April 1915, Noonan was wounded in the landings at Anzac Cove on the Gallipoli Peninsula and was transferred to a military hospital in Cairo for treatment. In July, he returned to front line duty in Gallipoli, where he was killed in action on August 9, 1915.
He is buried at the 7th Field Ambulance Cemetery in Gallipoli.
Michael Noonan, a nephew of Thomas, said the family was "so proud" of their fallen son and the collection was a "window to the past".
"The letters are good reading for anybody because they are so clear. They were in a press in the house he was born for 80 years, in an old envelope. He was 21 and anyone that has ever read them, has said the way they were written, you think they were ahead of his time," said Michael Noonan, who lives in Madaboy, Murroe, Co Limerick – just over a mile from where his uncle was born.
"He was killed in Gallipoli. I visited his grave three years ago there and walked in the water where he landed. I used to look at the letters every so often when I was young, and the medals and diaries. I took an interest from there," he added.
The newspaper was brought to Limerick by hand from Australia, where it was discovered by an antique collector of WWI memorabilia.
Asked if he hoped students and researchers would study the collection, Mr Noonan said: "I would like to think someone would, yes. All the cousins and second and third generations have come and read his letters and have taken back copies to Australia.
"A lot of them have read about it, but I am sure in time to come, others will come in and say 'we can see them in UL now' and just walk in there and see them on display. It keeps his memory alive," he added.
Ken Bergin, head of Special Collections and Archives at UL, said: "The Special Collections and Archives department at the Glucksman Library is delighted to acquire this recent addition to the Noonan collection, further complementing its other WWI holdings which include the papers of the Armstrong family in Co Tipperary.
"We are very grateful to the Noonan family for their donation, and look forward to sharing their family history with our researchers," he added.