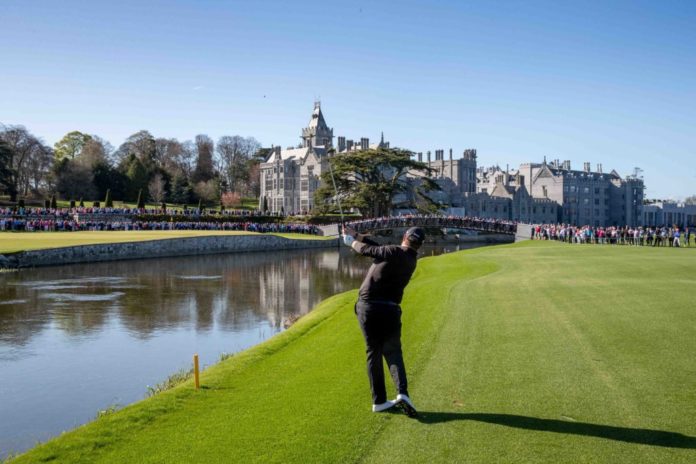 The Cabinet has approved support for Ireland to host The Ryder Cup in 2026.  This will be the first time in 20 years The Ryder Cup will be hosted in Ireland since Kildare's K Club hosted the competition in 2006. The Ryder Cup is Golf's premier team contest and will be held at Adare Manor.
The Ryder Cup 2018 saw more than 250,000 from 90 countries visit the host nation, France for the competition.
Today our dreams come true. https://t.co/36jaNQJyXP#RC2026 #RyderCup #AdareManor2026 #BeyondEverything pic.twitter.com/pUQToHpGg2

— Adare Manor (@TheAdareManor) July 25, 2019
Announcing the support, the Taoiseach, Leo Varadkar, TD commented:
"I am delighted that Ireland will be the host of The Ryder Cup in 2026.  It is great news for Ireland, and for County Limerick and the west of Ireland in particular.
"This news comes at the end of an historic week for golf on the island of Ireland, following the hugely successful hosting of the Open Championship by Royal Portrush Golf Club, and the historic victory by one of Ireland's most popular sporting heroes, Shane Lowry.
"Shane's victory is one of many great achievements by Irish golfers, not just in Major Championships but also in The Ryder Cup.  Over the years, Irish captains and Irish players have played a huge role in the success of the European team.
"I am sure that when The Ryder Cup comes to Adare, we will see many more great sporting memories created, and great sporting friendships forged.  It will be a fantastic occasion for everyone on the island of Ireland, and for the many visitors from both sides of the Atlantic who can look forward to another great Irish welcome." 
Huge congratulations to the team at @TheAdareManor. This is Beyond Everything. https://t.co/ur2IrP3JnK

— JP McManus Pro-Am (@JPProAm) July 25, 2019
Commenting on the announcement, the Minister for Transport, Tourism and Sport, Shane Ross T.D.stated:
"The passion of Irish people for golf across the island is well known and that was reinforced by the fantastic crowds at last Sunday's Open Championship in Portrush and the joy at Shane's great victory. Hosting The Ryder Cup here will be a great occasion for Irish golf and Irish tourism. The Ryder Cup in 2026 will be a must go event for golf fans when we expect thousands of overseas visitors to come to Ireland."
Taoiseach @LeoVaradkar – "We already have #Euro2020 coming to Dublin next year and hosting the @RyderCup further enhances our profile as a destination for other major events." @EuropeanTour https://t.co/fleQWmnmuQ pic.twitter.com/TyvBOVzGJZ

— MerrionStreet.ie (@merrionstreet) July 25, 2019
The news was further welcomed by Minister of State for Tourism and Sport, Brendan Griffin, T.D. who stated:
"It's been a fantastic week for golf in Ireland following Shane Lowry's heroic win in Portrush. The announcement of The Ryder Cup for Ireland in 2026 is further great news and is a wonderful honour for all of us in Ireland, North and South. It's a special honour for the people of Munster, a province steeped in sporting culture, where this marvellous global event will be embraced by the people to make 2026 the greatest ever tournament in the history of The Ryder Cup."