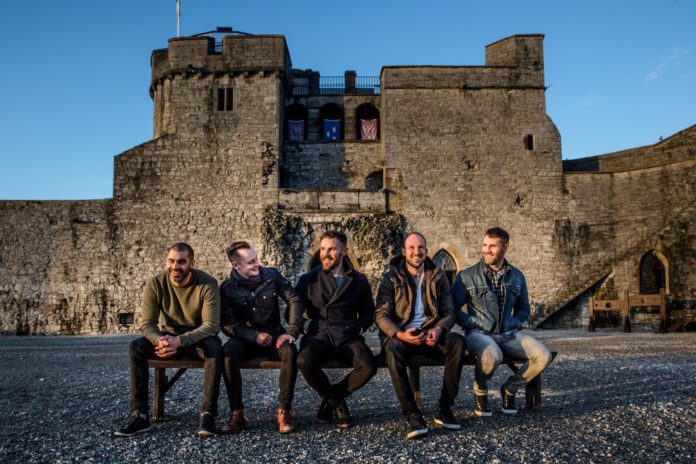 Hermitage Green are about to play to their largest ever hometown crowd over two nights at King John's Castle this weekend. Dan Murphy talked to Limerick Post.
Sign up for the weekly Limerick Post newsletter
HERMITAGE Green are about to play two huge shows in the city.
The group of friends that started out playing for fun in the Curragower Bar now cross the river to perform to thousands at King John's Castle.
Born out of the late noughties in Limerick when jobs were scarce, the banks had failed and the country was broke this band of brothers found a ready audience looking for fun and escape from the news cycle.
Dan Murphy, chatting with Limerick Post remembers how the band built its following in the early days.
"The kind of band we were then. We were playing covers. No one was drinking cos nobody had any money.
"A weird thing started to happen around Limerick. Pubs were so desperate to get punters in drinking that they were booking bands like us every night of the week."
"We were playing six and seven nights a week."
From filling the back rooms of bars to full-house shows in Dolan's, making a live album, signing a record contract, huge performances at Electric Picnic's largest arena and now touring across the globe the band's rise has been remarkable.
Today Limerick is finding its way back to a little prosperity and opportunities and there is a buzz of creativity from the new hip hop and electronic acts and songwriters that are playing across the city today. Is the Limerick of 2019 a very different city from those days when the band played tunes in the Curragower?
"I think we are culturally, racially, spiritually more diverse that we have ever been at any time and that is a reflection of a new tapestry and what it is to be Irish. Being Irish means you can be anything and Limerick is a reflection of that."
One of the big moments in a Hermitage Green gig today is their cover version of Dreams. Members of Hermitage Green performed at a charity event in Dolan's Limerick with Noel Hogan of The Cranberries just days before Dolores was found dead in London in January 2018.
The Greenberries as they were dubbed on the night brought the house down with versions of Zombie and Dreams. It would become the last time a member of The Cranberries has performed these songs in public.
"We got together with Noel and we learned Zombie and Dreams for the Metis Ireland gig."
"When you get up close and personal with those songs. Songs that you knew so well when you were growing up. When you sit down as a musician to learn them years later you are reminded of how timeless they are it is no mystery that they had the impact that they did."
"I've no doubt that they will continue to live on in musical history."
Current single 'Heaven' and its video is the first new music from Hermitage Green in 2019.
The song imagines the afterlife breaking into the everyday and explores how Heaven or Hell can be within your reach, depending on how you choose to live your life. And the clever video challenges preconceptions and norms and features more snogging than an end-of-term school disco.
The video has over 15,000 views and was met with a hugely positive response.
Dan reports that the band have heaps of new material and are still writing. Recording is promised over the these summer months between festival dates.
With guests HamsandwicH and Moxie, and Sean O'Meara, Hermitage Green play King John's Castle on Friday July 26. www.dolans.ie for tickets. (The band's show on July 27 is already sold out!)