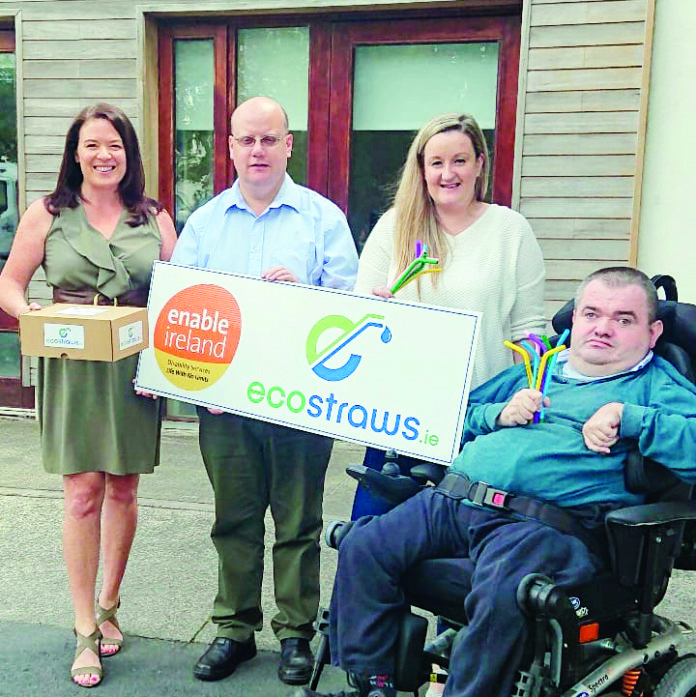 THE staff and service users at the Enable Ireland centre in Limerick are not just a friendly bunch, they're an eco-friendly bunch!
When Manager Orna Maguire decided to reduce plastic waste at the centre, one of the areas she focused on was the use of drinking straws. With more than 40 service users at the Mungret centre and most of them with complex physical disabilities, they go through a lot of plastic straws!
While there has been some push-back from groups representing people with disabilities against the introduction of EU regulations banning single-use plastics, Orna was determined to press ahead.
Her search for a practical alternative to plastic straws brought her to a company that was based only a few miles away, Limerick based EcoStraws.ie.
"The team at EcoStraws.ie sent a variety of reusable straws to us so we could test them out and decide which ones were viable alternatives," Orna explained.
"We trialled them rigorously for days, with thickened fluids, regular drinks, hot and cold drinks. We hand washed them and put them through the dishwasher. All in all they have been through the mill!
They eventually found a suitable alternative in the form of the soft silicone straw," Orna explained.
The straws are produced with strong, food grade, soft silicone and can be cut to fit shorter drinking vessels. They are attractively designed for children and adults with flexible silicone, safe for delicate mouths.
One user who was impressed is Enda Gallagher. He explained how the silicone straws were the best option for him; "The angle of the straws makes it easier to drink without lifting the glass and it allows me to drink independently and with confidence wherever I go".
Sarah Keyes of EcoStraws.ie said they were delighted to play their part in helping the care users at Enable Ireland go about their daily business with independence and dignity.
"It's up to all of us to support these charities, and help the users reach their full potential and I'm glad that we could make a small contribution to this," she added.